"Astral Radiance" English Set and Products Officially Revealed!
Astral Radiance, our tenth Sword & Shield set, has been officially revealed by TPCi! We first learned about the set back in January. Some of its French products leaked two weeks ago.
The set is inspired by the Legends: Arceus video game. It will feature various Hisuian Pokemon and card art that showcases the Hisui region.
Astral Radiance will feature over 180 cards, including…
3 brand-new Radiant Pokemon (the English name for "Sparkling Pokemon")
7 awesome Pokemon VSTAR
19 powerful Pokemon V
2 enormous Pokemon VMAX
30 cards with special art in the Trainer Gallery subset (like Brilliant Stars)
More than 20 Trainer cards
As posted before, the set will hit store shelves on May 27th. Prereleases will take place from May 14th through May 22nd.
Product Images
More product images may be revealed later today, so stay tuned!
Confirmed Cards
New cards mentioned for our English set include Hisuian Decidueye VSTAR, Hisuian Typhlosion VSTAR, and Hisuian Samurott VSTAR from Japan's Battle Region as well as Origin Palkia VSTAR and Origin Dialga VSTAR from Japan's Time Gazer & Space Juggler. We should also see Darkrai VSTAR since Darkrai is on the Elite Trainer Box.
The three Radiant Pokemon should be Radiant Greninja, Radiant Hawlucha, and Radiant Heatran from Japan's Battle Region.
Card Cutting Shenanigans & Upcoming Sets
Astral Radiance will feature over 180 cards before secret rares. This means a huge chunk of cards will be cut from our English set. There are several sources that can (and will) be used for our English set:
February's Battle Region feature 67 cards in the main set and 26 secret rares (of which up to nine full arts can become part of our main set). The V and VSTAR cards of the Hisuian Starter Evolutions come from this set.
Battle Region's associated Darkrai VSTAR and Lucario VSTAR decks contain 19 new cards
April's Time Gazer and Space Juggler sets contain 134 cards before secret rares (and will probably feature up to 50 secret rares, of which nine to eighteen full arts will become part of our main set). The Dialga and Palkia VSTAR cards come from these two sets.
At some point we'll need the prints of the new regulation mark cards from December's Start Deck 100, such as Rare Candy, Switch,

Crushing Hammer, Energy Retrieval, and Energy Search. There's around 10 of these that still need to be printed here.

We also need a bunch of the secret rares from December's VMAX Climax, though most of them should release in our Trainer Gallery subsets.
For the next few sets we'll probably see between 50 to 70 cards delayed from one set to the next, such as when 55 cards that would have been in Chilling Reign were delayed to Evolving Skies, then over 90 cards that would have been in Evolving Skies were delayed to Fusion Strike. This "shuffling around" will help even out the size of the sets. This will make the next several sets more unpredictable.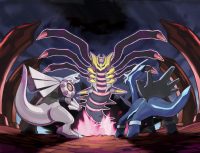 In August we'll get our SWSH11 Lost Origin set featuring Giratina. We expect the set to feature the return of the Lost Zone. It should be comprised of the cards from Japan's Dark Phantasma, releasing in May, and Lost Abyss, releasing in June. (And of course any delayed cards.)
Our unnamed SWSH12 set in November will likely contain the cards from Japan's Incandescent Arcana and Paradigm Trigger, both of which should release between August and October. This SWSH12 set will likely be our "catch up" set of the year like Fusion Strike last year. We could also get a potential holiday set in the fall to absorb some of the overflow.

We should then get our first Pokemon Scarlet & Violet set in February 2023. Wild guess, but I think that set will be named Scarlet & Violet! ;) It'll also be the third base set in a row to start with an "S" following Sun & Moon and Sword & Shield.