"Pokemon Scarlet" and "Pokemon Violet" Announced! Sprigatito, Fuecoco, and Quaxly!
Pokemon Scarlet and Pokemon Violet were just announced in today's Pokemon Direct presentation! The games will release worldwide in November 2022 for the Nintendo Switch.
The Starter Pokemon will be Sprigatito, the Grass Cat Pokemon who's capricious and attention-seeking, Fuecoco, the Fire Croc Pokemon who's laid-back, and Quaxly, the Duckling Pokemon who's earnest and tidy.
The gatito in Sprigatito means "little cat" in Spanish. Fuecoco's name seems to be inspired by the Spanish word fuego for "fire." There's also a location shown in the trailer that looks like The Sagrada Familia from Barcelona. The region seems to be inspired by Spain.
The games will be an "open world" adventure. As the press release states, "Trainers can explore an open world where various towns with no borders blend seamlessly into the wilderness. Pokemon can be seen everywhere in this wide-open world – in the skies, in the sea, and on the streets."
The games will connect to Pokemon HOME, but can only receive specific Pokemon. This indicates the pair will be programmed with a limited number of Pokemon like recent entries, allowing Gamefreak to focus on those Pokemon's models and animations. This is likely going to be the trend for all Pokemon games going forward.
English Trailer
Starter Pokemon Details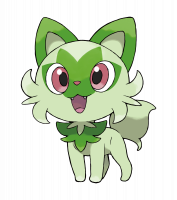 Sprigatito
Category: Grass Cat Pokémon
Height:  1′4″
Weight:  9 lbs.
Type: Grass
Ability:  Overgrow
The capricious, attention-seeking Grass Cat Pokémon.
Fuecoco
Category: Fire Croc Pokémon
Height: 1′4″
Weight: 21.6 lbs.
Type: Fire
Ability: Blaze
The laid-back Fire Croc Pokémon that does things at its own pace.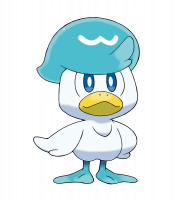 Quaxly
Category: Duckling Pokémon
Height: 1′8″
Weight: 13.4 lbs.
Type: Water
Ability: Torrent
The earnest and tidy Duckling Pokémon.
Game Screenshots