"Obsidian Flames" Officially Revealed, First Products from the Set!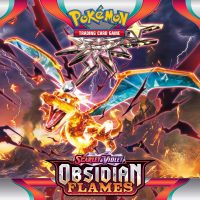 Obsidian Flames has been officially revealed by Pokemon! It will release on August 11th as our third Scarlet & Violet set. We first posted about the set a month ago.
The set will introduce the first Tera Pokemon ex of unusual types, including Charizard ex (Darkness), Tyranitar ex (Lightning), Eiscue ex, and Vespiquen ex. These "type-shifted" Tera Pokemon ex will use the same Energy as their usual types, but will have a different Weakness to correspond with their shifted types. For example, Charizard ex will be a Darkness card with Fire attack costs and a Grass Weakness (Darkness types are weak to Grass to represent Bug).
The set will also feature a Tera Dragonite ex (Dragon), Tera Greedent ex (Colorless), Revavroom ex, Melmetal ex, and Toedscruel ex. Like in the video games, many Tera Pokemon are still one of their original types.
Obsidian Flames will feature:
Over 190 cards
15 Pokemon ex and six Tera Pokemon ex
12 illustration rare Pokemon
Six special illustration rare Pokemon and Supporter cards
12 ultra rare full-art etched Pokemon ex and Supporter cards
More than 15 Trainer cards
Three hyper rare gold etched cards
The Elite Trainer Boxes will feature a full art Charmander promo. The Pokemon Center version will come with an extra stamped version, as with the ETB for Scarlet & Violet.
We expect Obsidian Flames to be sourced from July's Ruler of the Black Flame, July's eight ex Starter Decks, May's ex Special Sets, and the 30ish cut cards from Paldea Evolved.
Charizard ex's Darkness type and Tyranitar ex's Lightning type are a reference to their Delta Species cards from 2006.
In the TCG's lore, scientists from the Holon region were working at a secret researching tower trying to find Mew. One day, an experiment went wrong, and an energy wave escaped from the tower and surrounded the forest. Then Delta Species Pokemon appeared with types they weren't naturally born with.
The TCG featured four Delta Species sets from 2005 to 2006 (an especially nostalgic time for me, as it was only three years into starting PokeBeach). Now the main series games are doing a similar concept with Terastalization — so the TCG will be going full circle in Obsidian Flames!
We will also be getting a Charizard ex along with the first 151 Pokemon in Pokemon Card 151. It will release in Japan on June 16th and overseas in the fall. Later in the fall we'll also get a special Pokemon Trading Card Game Classic box that includes a reprint of the original Charizard.