"Ruler of the Black Flame" to Feature Dark-Type Charizard, Plus Upcoming Release Dates!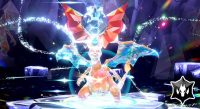 The Japanese set Ruler of the Black Flame will star a Darkness-type Charizard! This should be the first Tera ex card of a different type. The information was revealed by the set's official sell sheet, which can't be shared publicly.
The set will release on July 28th. It will see the release of card sleeves and a deck box featuring Dark-type Charizard. It will also see the release of a "Ruler of the Black Flame Deck Build Box" featuring a 60-card deck, coin, damage counters, markers, and a 1-card promo pack.
Charizard can't be natively found in Pokemon Scarlet and Violet, but it appeared at black Tera Raid crystals in December. Its Tera Type was Dragon. (Hence having to use a screenshot of it with the Dragon-type hat. :x)
As stated over the last few months, the first sets of a block usually start "simple" in terms of power and mechanics. This is because the appeal is the new Pokemon. After their cards are introduced, the sets start to spice up the mechanics to keep fans interested. So we eventually expected to see Tera cards of different types. So far, the three Tera Pokemon introduced to the TCG just use their normal types and aren't particularly powerful.
---
We've also learned the release dates for several upcoming sets.
We previously discovered trademarks for Snow Hazard and Clay Burst, which we think may feature Chien-Pao and Ting-Lu. They are confirmed to release on April 14th.
Raging Surf will release on May 19th. It could feature either Tatsugiri and Dondozo or Gholdengo.
Pokemon Card 151 is confirmed to release on June 16th. It's expected to feature the first 151 Pokemon, including Kadabra.
New "ex Starter Decks" will release on July 7th featuring eight different Pokemon ex, such as Clefable ex and Victini ex.
Ruler of the Black Flame releases on July 28th. It could also feature Chi-Yu.
Ancient Roar and Future Flash don't have release dates yet, but should release around August or September. They're expected to feature Paradox Pokemon.
Shiny Treasure will likely be the annual "High Class Pack Set" that usually releases in November or December. It should feature shiny Pokemon.