'Steam Siege' Set List and Spoilers!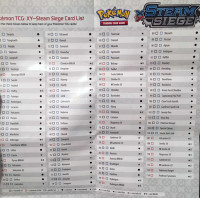 Update: Professor Sycamore FA and rest of set list confirmed! (See right pic.)
Some retail chains in Australia have started selling Steam Siege ahead of its official release date. PokeBeach reader Keith N. bought several of the booster packs early, confirming most of the set list our forum members previously speculated.
Cards with asterisks have the English card's official wording, which I typed out myself. Thanks goes to article program head Machamp the Champion for helping me format this story since I'm busy prepping for my thesis film! :p
Steam Siege will be released in stores on August 5th, but prereleases take place this weekend and next weekend. To find one near you, use the event locator on Pokemon.com. Prereleases are special tournaments where you can play with the upcoming set's cards before they are officially sold in stores. For an entry fee, you receive one of four decks themed around a promo card as well as booster packs of the set. The tournaments are fun, friendly, and not meant to be competitive — they're the perfect way to start playing the Pokemon TCG!
Steam Siege will be legal for Worlds. For those of you competing, you better start studying!
Tangela* – Grass – HP80
Basic Pokemon

[G][C] Slam: 30x damage. Flip 2 coins. This attack does 30 damage times the number of heads.

[G][G][C] Mega Drain: 40 damage. Heal 20 damage from this Pokemon.

Weakness: Fire (x2)
Resistance: none
Retreat: 3

---

Tangrowth – Grass – HP130
Stage 1 – Evolves from Tangela

[G][G][C] Leaf Storm: 80 damage. Remove 4 damage counters from all of your [G] Pokemon.

[G][G][G][C] Whip Down: 110+ damage. Flip a coin. If heads, this attack does 30 more damage.

Weakness: Fire (x2)
Resistance: none
Retreat: 4

---

Hoppip* – Grass – HP40
Basic Pokemon

[C] Splash: 10 damage.

Fun fact: Magikarp's "Splash" attack was named "Splash" instead of the more accurately-named "Hop" because it was the only Pokemon at the time that could use the attack. "Hop" is a more accurate name, which is why Hoppip and Spoink can use the attack. The situation is similar to why Mr. Mime is named Mr. Mime even though it can be female – lack of foresight at the time. Mr. Mime should have been named something like "Barrier," its Japanese name.

Weakness: Fire (x2)
Resistance: none
Retreat: 1

---

Skiploom – Grass – HP70
Stage 1 – Evolves from Hoppip

[C] Splash: 20 damage.

Weakness: Fire (x2)
Resistance: none
Retreat: 1

---

Jumpluff – Grass – HP90
Stage 2 – Evolves from Skiploom

[C] Cotton Carry: Switch your opponent's Active Pokemon with 1 of your opponent's Benched Pokemon.

[G] Solar Step: 20x damage. This attack does 20 damage times the number of your remaining Prize cards.

Weakness: Fire (x2)
Resistance: none
Retreat: 1

---

Yanma* – Grass – HP70
Basic Pokemon

[C] Scout: Your opponent reveals his or her hand.

[C][C][C] Speed Dive: 40 damage.

Weakness: Lightning (x2)
Resistance: Fighting (-20)
Retreat: 1

---

Yanmega* – Grass – HP110
Stage 1 – Evolves from Yanma

Ability: Sonic Vision
If you have exactly 4 cards in your hand, ignore all Energy in the attack cost of each of this Pokemon's attacks.

[C][C][C] Assault Boom: 50+ damage. If your opponent's Active Pokemon has a Pokemon Tool card attached to it, this attack does 70 more damage.

Weakness: Lightning (x2)
Resistance: Fighting (-20)
Retreat: 0

---

Yanmega BREAK – Grass – HP140
BREAK Evolution – Evolves from Yanmega

Yanmega BREAK retains the attacks, Abilities, Weakness, Resistance, and Retreat Cost of its previous Evolution.

[C][C][C] Penetrate: 100 damage. This attack's damage isn't affected by Weakness, Resistance or any other effects on your opponent's Active Pokemon.

---

Seedot* – Grass – HP50
Basic Pokemon

[G] Bide: Flip a coin. If heads, if this Pokemon would be Knocked Out by damage from an attack during your opponent's next turn, it is not Knocked Out and its remaining HP becomes 10 instead.

Weakness: Fire (x2)
Resistance: none
Retreat: 1

---

Nuzleaf* – Grass – HP70
Stage 1 – Evolves from Seedot

[G] Harden: During your opponent's next turn, if this Pokemon would be damaged by an attack, prevent that attack's damage done to this Pokemon if that damage is 60 or less.

[C][C] Razor Leaf: 20 damage.

Weakness: Fire (x2)
Resistance: none
Retreat: 1

---

Shiftry* – Grass / Darkness – HP140
Stage 2 – Evolves from Nuzleaf

[G] Wicked Wind: 40 damage. Until the end of your opponent's next turn, each Stadium or Pokemon Tool card in play has no effect. (This includes cards that come into play on that turn.)

[C][C] Extrasensory: 60+ damage. If you have the same number of cards in your hand as your opponent, this attack does 60 more damage.

Weakness: Fire (x2)
Resistance: none
Retreat: 2

---

Foongus* – Grass – HP40
Basic Pokemon

Ability: Play Ball
When you play this Pokemon from your hand onto your Bench, you may put 3 Poké Ball cards from your discard pile into your hand.

[G] Ram: 10 damage.

Weakness: Fire (x2)
Resistance: none
Retreat: 1

---

Amoonguss – Grass – HP90
Stage 1 – Evolves from Foongus

[C] Noisy Spore: Your opponent's Active Pokemon is now Poisoned and Confused.

[G][C] Mysterious Reaction: 30 damage. If your opponent's Active Pokemon is Confused, it is now also Paralyzed.

Weakness: Fire (x2)
Resistance: none
Retreat: 2

---

Larvesta* – Grass – HP70
Basic Pokemon

[G][C] Bug Bite: 30 damage.

Weakness: Fire (x2)
Resistance: none
Retreat: 2

---

Volcarona – Grass / Fire – HP110
Stage 1 – Evolves from Larvesta

[G] Blazing Scales: 20 damage. Flip a coin. If heads, your opponent's Active Pokemon is now Confused. If tails, your opponent's Active Pokemon is now Paralyzed.

[C][C][C] Power Hurricane: 120 damage. Discard all Energy attached to this Pokemon.

Weakness: Fire (x2)
Resistance: none
Retreat: 1

---

Ponyta* – Fire – HP60
Basic Pokemon

[C] Returning Flames: Put 2 [R] Energy cards from your discard pile into your hand.

[R] Live Coal: 10 damage.

Weakness: Water (x2)
Resistance: none
Retreat: 1

---

Rapidash* – Fire – HP90
Stage 1 – Evolves from Ponyta

[C] Rear Kick: 30 damage.

[R][R] Fire Blast 70: Discard a [R] Energy attached to this Pokemon.

Weakness: Water (x2)
Resistance: none
Retreat: 1

---

Chimchar* – Fire – HP60
Basic Pokemon

[C] Scratch: 10 damage.

[R][C] Ember: 30 damage. Flip a coin. If tails, discard a [R]  Energy attached to this Pokemon.

Weakness: Water (x2)
Resistance: none
Retreat: 1

---

Monferno* – Fire – HP80
Stage 1 – Evolves from Chimchar

[C] Scratch: 20 damage.

[R][C] Flare: 30 damage.

Weakness: Water (x2)
Resistance: none
Retreat: 1

---

Infernape* – Fire – HP130
Stage 2 – Evolves from Monferno

[R][R] Flare Blitz: 120 damage. Discard all [R] Energy attached to this Pokemon.

[R][R] Flare Up: 200 damage. If you have fewer than 10 [R] Energy cards in your discard pile, this attack does nothing. Shuffle 10 [R] Energy cards from your discard pile into your deck.

Weakness: Water (x2)
Resistance: none
Retreat: 1

---

Talonflame BREAK* – Fire – HP170
BREAK Evolution – Evolves from Talonflame

Talonflame BREAK retains the attacks, Abilities, Weakness, Resistance, and Retreat Cost of its previous Evolution.

[R][R] Flare Blitz: 150 damage. Discard all [R] Energy attached to this Pokemon.

---

Litleo* – Fire – HP60
Basic Pokemon

[R][C] Lunge: 30 damage. Flip a coin. If tails, the attack does nothing.

Weakness: Fire (x2)
Resistance: none
Retreat: 1

---

Pyroar* – Fire – HP120
Stage 1 – Evolves from Litleo

[R][C] Flame Charge: 60 damage. Search your deck for a [R] Energy card and attach it to this Pokemon. Shuffle your deck afterward,

[R][R][C] Incinerate: 90 damage. Before doing damage, discard all Pokemon Tools cards attached to your opponent's Active Pokemon.

Weakness: Fire (x2)
Resistance: none
Retreat: 1

---

Pyroar BREAK* – Fire – HP160
BREAK Evolution – Evolves from Pyroar

Pyroar BREAK retains the attacks, Abilities, Weakness, Resistance, and Retreat Cost of its previous Evolution.

[R][R][C] Kaiser Tackle: 180 damage. This Pokemon does 50 damage to itself.

---

Volcanion – Fire – HP130
Basic Pokemon

[R] Power Heater: 20 damage. Choose 2 of your Benched Pokemon. Attach a Fire Energy from your discard pile to each of them.

[R][R][R] Explosive Flame: 100 damage.

Weakness: Water (x2)
Resistance: none
Retreat: 2

---

Volcanion-EX* – Fire / Water – HP180
Basic Pokemon

Ability: Steam Up
Once during your turn (before your attack), you may discard a [R] Energy card from your hand. If you do, during this turn, your Basic [R] Pokemon's attacks do 30 more damage to your opponent's Active Pokemon (before applying Weakness and Resistance).

[R}[R][C] Volcanic Heat: 130 damage. This Pokemon can't attack during your opponent's next turn.

When a Pokemon-EX has been Knocked Out, your opponent takes 2 Prize cards.

Weakness: Water (x2)
Resistance: none
Retreat: 3

---

Mantine* – Water – HP100
Basic Pokemon

[W] Healing Wave: Discard as many cards as you like from your hand. Heal 10 damage from this Pokemon for each card your discarded in this way.

[W][W][W] Dwindling Wave: 90- damage. This attack does 90 damage minus 10 damage for each damage counter on this Pokemon.

Weakness: Lightning (x2)
Resistance: Fighting (-20)
Retreat: 1

---

Shellos – Water – HP70
Basic Pokemon

[W] Rain Splash: 10 damage.

Weakness: Grass (x2)
Resistance: none
Retreat: 2

---

Gastrodon – Water – HP110
Stage 1 – Evolves from Shellos

[W] Stick On: 20 damage. During your opponent's next turn, the Defending Pokemon's attack costs and retreat cost is increased by [C].

[W][W][W] Water Pulse: 60 damage. Your opponent's Active Pokemon is now Asleep.

Weakness: Grass (x2)
Resistance: none
Retreat: 3

---

Oshawott* – Water – HP60
Basic Pokemon

[W][C] Water Gun: 30 damage.

Weakness: Grass (x2)
Resistance: none
Retreat: 1

---

Dewott* – Water – HP90
Stage 1 – Evolves from Oshawott

[W][C] Razor Shell: 30+ damage. Flip a coin. If heads, this attack does 20 more damage.

Weakness: Grass (x2)
Resistance: none
Retreat: 2

---

Samurott – Water – HP140
Stage 2 – Evolves from Dewott

[W][C] Perfect Blade: 40 damage. If your opponent's Active Pokemon would be under 60 HP after using this attack, your opponent's Active Pokemon is Knocked Out instead.

[W][W][C] Long Spear: 90 damage. This attack does 30 damage to 1 of your opponent's Benched Pokemon. (Don't apply Weakness and Resistance when damaging the Bench.)

Weakness: Grass (x2)
Resistance: none
Retreat: 2

---

Clauncher* – Water – HP60
Basic Pokemon

[W] Double Pincers: 10x damage. Flip 2 coins. This attack does 10 times the number of heads.

Weakness: Grass (x2)
Resistance: none
Retreat: 1

---

Clawitzer* – Water – HP100
Stage 1 – Evolves from Clauncher

Ability: Mega Boost
Once during your turn (before your attack), you may attach a Special Energy card from your hand  to 1 of your Mega Evolution Pokemon.

[W][C][C] Crabhammer: 60 damage.

Weakness: Grass (x2)
Resistance: none
Retreat: 2

---

Clawitzer BREAK – Water – HP130
BREAK Evolution – Evolves from Clawitzer

Clawitzer BREAK retains the attacks, Abilities, Weakness, Resistance, and Retreat Cost of its previous Evolution.

[C] Lock On: During your opponent's next turn, the Defending Pokemon can't retreat. During your next turn, your Pokemon's attacks do 120 more damage to the Defending Pokemon.

---

Bergmite* – Water – HP70
Basic Pokemon

[W] Ice Block: Heal 30 damage from this Pokemon.

[C][C] Icy Snow: 20 damage.

Weakness: Metal (x2)
Resistance: none
Retreat: 2

---

Avalugg – Water – HP120
Stage 1 – Evolves from Bergmite

[C][C] Crunch: 30 damage. Flip a coin. If heads, discard an Energy attached to your opponent's Active Pokemon.

[W][W][W] Ice Break: Discard the top 3 cards of your deck. For each [W] Energy discarded in this way, discard 3 cards from the top of your opponent's deck.

Weakness: Metal (x2)
Resistance: none
Retreat: 4

---

Mareep* – Lightning – HP60
Basic Pokemon

[C] Thunder Wave: Flip a coin. If heads, your opponent's Active Pokemon is now Paralyzed.

[L][C] Tackle: 20 damage.

Weakness: Fighting (x2)
Resistance: Metal (-20)
Retreat: 1

---

Flaaffy* – Lightning – HP90
Stage 1 – Evolves from Mary

[C] Ram: 20 damage.

[L][L][C] Thunder Shock: 50 damage. Flip a coin. If heads, your opponent's Active Pokemon is now Paralyzed.

Weakness: Fighting (x2)
Resistance: Metal (-20)
Retreat: 2

---

Ampharos – Lightning – HP140
Stage 2 – Evolves from Flaaffy

Ability: Shocking Light
Once during your turn (before your attack), you may choose 1 of your opponent's Pokemon-EX and put 3 damage counters on it.

[L][L][C] Giga Bolt: 80+ damage. Flip a coin. If heads, this attack does 40 more damage. If tails, your opponent's Active Pokemon is now Paralyzed.

Weakness: Fighting (x2)
Resistance: Metal (-20)
Retreat: 2

---

Joltik* – Lightning – HP30
Basic Pokemon

[L] Attach: 10 damage.-

Weakness: Fighting (x2)
Resistance: Metal (-20)
Retreat: 0

---

Galvantula* – Lightning / Grass – HP90
Stage 1 – Evolves from Joltik

[C] Double Thread: This attack does 30 damage to 2 of your opponent's Pokemon. Also apply Weakness and Resistance for Benched Pokemon.

[L] Electrocweb: 30 damage. The Defending Pokemon can't retreat during your opponent's next turn.

Weakness: Fighting (x2)
Resistance: Metal (-20)
Retreat: 1

---

Nidoran♂* – Psychic – HP60
Basic Pokemon

[C] Come Along: Search for Nidoran♀ and put it onto your Bench. Shuffle your deck afterward.

[P][C] Peck: 20 damage.

Weakness: Psychic (x2)
Resistance: none
Retreat: 1

---

Nidorino* – Psychic – HP80
Stage 1 – Evolves from Nidoran♂

[P][C] Peck: 20 damage.

[P][P][C] Nido Press: 40+ damage. If Nidorina is on your Bench, this attack does 40 more damage.

Weakness: Psychic (x2)
Resistance: none
Retreat: 2

---

Nidoking* – Psychic – HP150
Stage 2 – Evolves from Nidorino

Ability: King's Palace
Your Nidoqueen's attacks do 20 more damage to your opponent's Active Pokemon (before applying Weakness and Resistance).

[P][P][C] Power Lariat: 60+ damage. This attack does 30 more damage for each Evolution Pokemon on your Bench.

Weakness: Psychic (x2)
Resistance: none
Retreat: 4

---

Drifloon* – Psychic – HP60
Basic Pokemon

[C] Transfer Pain: Move 1 damage counter from 1 of your Pokemon to 1 of your opponent's Pokemon.

Weakness: Darkness (x2)
Resistance: Fighting (-20)
Retreat: 1

---

Drifblim – Psychic – HP100
Stage 1 – Evolves from Drifloon

[C][C] Omnious Telepathy: 30 damage. Your opponent's Active Pokemon is now Confused.

[P][P] Bursting Curse: Discard 2 Energy attached to this Pokemon. Place 8 damage counters on your opponent's Pokemon in any way you like.

Weakness: Darkness (x2)
Resistance: Fighting (-20)
Retreat: 1

---

Litwick* – Psychic – HP50
Basic Pokemon

[C] Slightly Simmer: Search your deck for up to 2 cards and discard them. Shuffle your deck afterward.

Weakness: Darkness (x2)
Resistance: Fighting (-20)
Retreat: 1

---

Lampent* – Psychic – HP80
Stage 1 – Evolves from Litwick

[C] Mirror Mirror: Each player either draws or discards cards until that player has 4 cards in his or her hand. (Your opponent does this first.)

[P][C] Flickering Flame: 20 damage. Your opponent's Active Pokemon is now Asleep.

Weakness: Darkness (x2)
Resistance: Fighting (-20)
Retreat: 1

---

Chandelure* – Psychic – HP130
Stage 2 – Evolves from Lampent

Ability: Sinister Selection
Once during your turn (before your attack), you may look at the top 2 cards of your deck and put 1 of them into your hand. Discard the other card.

[P][C] Past Friends: 10+ damage. This attack does 10 more damage for each Supporter card in your discard pile.

Weakness: Darkness (x2)
Resistance: Fighting (-20)
Retreat: 2

---

Hoopa – Psychic – HP130
Basic Pokemon

[C] Dimensional Punch: Choose 2 of your opponent's Pokemon. This attack does 20 damage to each of them.

[P][P][P] Sink Hole: 130 damage. This Pokemon can't use Sink Hole during your next turn.

Weakness: Psychic (x2)
Resistance: none
Retreat: 2

---

Mankey* – Fighting – HP60
Basic Pokemon

[C] Focus Energy: During your next turn, this Pokemon's Flop attack's base damage is 50.

[F] Flop: 10 damage.

Weakness: Psychic (x2)
Resistance: none
Retreat: 1

---

Primeape – Fighting – HP90
Stage 1 – Evolves from Mankey

[C] Swagger: 20 damage. Flip a coin. If heads, discard an Energy attached to your opponent's Active Pokemon.

[F][F] Focus Throw: 30+ damage. If your opponent's Active Pokemon's remaining HP is greater than this Pokemon's remaining HP, this attack does 60 more damage.

Weakness: Psychic (x2)
Resistance: none
Retreat: 1

---

Nosepass* – Fighting – HP70
Basic Pokemon

[C] Thunder Wave: Flip a coin. If heads, your opponent's Active Pokemon is now Paralyzed.

[F][C][C] Rolling Tackle: 40 damage.

Weakness: Grass (x2)
Resistance: none
Retreat: 2

---

Probopass* – Fighting – HP120
Stage 1 – Evolves from Nosepass

[F] Bounce Back: 40 damage. Your opponent switches his or her Active Pokemon with 1 of his or her Benched Pokemon.

[F][C][C] Rock Tomb: 80 damage. The Defending Pokemon can't retreat during your opponent's next turn.

Weakness: Grass (x2)
Resistance: none
Retreat: 2

---

Anorith* – Fighting – HP80
Restored Pokemon – Put this card onto your Bench only with the effect of Claw Fossil Anorith

Ability: Restored Barrier
Each of your Restored Pokemon has no Weakness.

[C] X-Scissor: 20+ damage. Flip a coin. If heads, this attack does 20 more damage.

Weakness: Grass (x2)
Resistance: none
Retreat: 1

---

Armaldo – Fighting – HP150
Stage 1 – Evolves from Anorith

[C] Wild Water Current: 40 damage. Move an Energy card attached to your opponent's Active Pokemon to 1 of your opponent's Benched Pokemon.

[F][C][C] Guard Claw: 100 damage. During your opponent's next turn, reduce all damage done to this Pokemon by attacks by 30.

Weakness: Grass (x2)
Resistance: none
Retreat: 2

---

Croagunk – Fighting – HP60
Basic Pokemon

[C] Better Poison: If your opponent's Active Pokemon is Poisoned, put 3 more damage counters on that Pokemon between turns. (This effect stacks.)

Weakness: Psychic (x2)
Resistance: none
Retreat: 1

---

Toxicroak – Fighting – HP90
Stage 1 – Evolves from Croagunk

Ability: Poisonous Enzyme
If your opponent's Active Pokemon is Poisoned, this Pokemon can't be affected by damage from attacks.

[F][C] Poison Jab: 50 damage. Flip a coin. If heads, your opponent's Active Pokemon is now Poisoned.

Weakness: Grass (x2)
Resistance: none
Retreat: 2

---

Sneasel* – Darkness – HP60
Basic Pokemon

[D] Nyan Roll: 10 damage. Flip a coin. If heads, prevent all effects of attacks, including damage, done to this Pokemon during your opponent's next turn.

Weakness: Fighting (x2)
Resistance: Psychic (-20)
Retreat: 1

---

Weavile – Darkness – HP90
Stage 1 – Evolves from Sneasel

Ability: Rip Off
As often as you like during your turn (before your attack), you make take a Pokemon Tool attached to 1 of your Pokemon and return it to your hand.

[D][C] Cleave: 40 damage.

Weakness: Fighting (x2)
Resistance: Psychic (-20)
Retreat: 1

---

Spiritomb – Darkness – HP70
Basic Pokemon

[D] Nightmare: 10 damage. Your opponent's Active Pokemon is now Asleep.

[D][C] Play With Wounds: Move the damage counters on your opponent's Benched Pokemon to your opponent's Pokemon in any way you like.

Weakness: none
Resistance: none
Retreat: 1

---

Pawniard* – Darkness – HP60
Basic Pokemon

[C] Charge Order: 10x damage. This attack does 10 damage times the number of your Pawniard.

Weakness: Fighting (x2)
Resistance: Psychic (-20)
Retreat: 1

---

Bisharp* – Darkness / Metal – HP100
Stage 1 – Evolves from Pawniard

[C] Retaliate: 30+ damage. If any of your Pokemon were Knocked Out by damage from an opponent's attack during his or her last turn, this attack does 60 more damage.

[D][C] Mach Claw: 60 damage. This attack's damage isn't affected by Resistance.

Weakness: Fighting (x2)
Resistance: Psychic (-20)
Retreat: 2

---

Yveltal* – Darkness – HP130
Basic Pokemon

[D] Oblivion Wing: 30 damage. Attach a [D] Energy from your discard pile to 1 of your Benched Pokemon.

[D][C][C] Darkness Blade: 100 damage. Flip a coin. If tails, this Pokemon can't attack during your next turn.

Weakness: Lightning (x2)
Resistance: Fighting (-20)
Retreat: 2

---

Yveltal BREAK* – Darkness – HP150
BREAK Evolution – Evolves from Yveltal

Yveltal BREAK retains the attacks, Abilities, Weakness, Resistance, and Retreat Cost of its previous Evolution.

[D][D][D] Baleful Night: 120 damage. This attack does 30 damage to each of your opponent's Benched Pokemon that already has damage counters on it. (Don't apply Weakness and Resistance for Benched Pokemon.)

---

Steelix-EX* – Metal – HP180
Basic Pokemon

[M][C][C][C] Wild Edge: 80+ damage. You may do 50 more damage. If you do, this Pokemon does 20 damage to itself.

[M][C][C][C][C] Iron Tail: 100x damage. Flip a coin until you get tails. This attack does 100 damage times the number of heads.

When a Pokemon-EX has been Knocked Out, your opponent takes 2 Prize cards.

Weakness; Fire (x2)
Resistance: Psychic (-20)
Retreat: 4

---

M Steelix-EX – Metal / Fighting – HP240
Mega Evolution – Evolves from Steelix-EX

When 1 of your Pokemon becomes a Mega Evolution, your turn ends.

[M][C][C][C][C] Canyon Axe: 160 damage. Does 10 damage to each of your opponents Benched Pokemon. (Don't apply Weakness and Resistance for Benched Pokemon.)

When a Pokemon-EX has been Knocked Out, your opponent takes 2 Prize cards.

Weakness; Fire (x2)
Resistance: Psychic (-20)
Retreat: 4

---

Shieldon* – Metal – HP90
Restored Pokemon – Put this card onto your Bench only with the effect of Armor Fossil Shieldon

[C][C] Rock Head: 20 damage. During your opponent's next turn, any damage done to this Pokemon by attacks is reduced by 20 (after applying Weakness and Resistance).

[M][C][C] Hammer In: 60 damage.

Weakness; Fire (x2)
Resistance: Psychic (-20)
Retreat: 2

---

Bastiodon* – Metal – HP150
Stage 1 – Evolves from Shieldon

[C][C] Counter Head: During your opponent's next turn, if this Pokemon is damaged by an attack (even if this Pokemon is Knocked Out), put damage counters on the Attacking Pokemon equal to the damage done to this Pokemon.

[M][M][C][C] Fortress of Rage: 100+ damage. This attack does 10 more damage for each of your Benched Pokemon that has any damage counters on it.

Weakness; Fire (x2)
Resistance: Psychic (-20)
Retreat: 4

---

Klink* – Metal – HP50
Basic Pokemon

[M] Disorderly Flip: 10x damage. Flip 4 coins. This attack does 10 damage times the number of heads.

Weakness; Fire (x2)
Resistance: Psychic (-20)
Retreat: 2

---

Klang* – Metal – HP80
Stage 1 – Evolves from Klink

[M][C] Vice Grip: 30 damage.

[M][M][C] Disorderly Flip: 30x damage. Flip 4 coins. This attack does 30 damage times the number of heads.

Weakness; Fire (x2)
Resistance: Psychic (-20)
Retreat: 2

---

Klinklang – Metal – HP140
Stage 2 – Evolves from Klang

Ability: Heavy Bumper
Reduce all damage done to this Pokemon by attacks by 10 for each [C] in your opponent's Active Pokemon's Retreat Cost.

[M][M][C] Gear Spinner: 70 damage. During your next turn, this Pokemon's Gear Spinner attack does 70 more damage.

Weakness; Fire (x2)
Resistance: Psychic (-20)
Retreat: 3

---

Cobalion – Metal – HP130
Basic Pokemon

[M] Fast Guard: During your opponent's next turn, prevent all damage done to this Pokemon by the attacks of your opponent's Basic Pokemon. During your next turn, this Pokemon can't use Fast Guard.

[M][M] Revenge Burst: 30+ damage. This attack does 30 more damage for each Prize card your opponent has taken.

Weakness; Fire (x2)
Resistance: Psychic (-20)
Retreat: 2

---

Magearna-EX* – Metal – HP160
Basic Pokemon

Ability: Mystic Heart
Prevent all effects of your opponent's attacks, except damage, done to each of your Pokemon that has any [M] Energy attached to it. (Existing effects are not removed.)

[M][C][C] Soul Blaster: 120 damage. During your next turn, this Pokemon's Soul Blaster attack's base damage is 60.

When a Pokemon-EX has been Knocked Out, your opponent takes 2 Prize cards.

Weakness: Fire (x2)
Resistance: Psychic (-20)
Retreat: 1

---

Marill* – Fairy – HP60
Basic Pokemon


[Y] Bubble Drain: 10 damage. Heal 10 damage from this Pokemon.

Weakness: Metal (x2)
Resistance: Darkness (-20)
Retreat: 1

---

Azumarill* – Fairy / Water – HP100
Stage 1 – Evolves from Marill

[C][C] Play Rough: 30+ damage. Flip a coin. If heads, this attack does 30 more damage.

[Y][Y][C] Bubble Drain: 80 damage. Heal 30 damage from this Pokemon.

Weakness: Metal (x2)
Resistance: Darkness (-20)
Retreat: 2

---

Gardevoir-EX* – Fairy – HP170
Basic Pokemon

[Y][C] Link Blast: 30+ damage. If this Pokemon and your opponent's Active Pokemon have the same amount of Energy attached to them, this attack does 70 more damage.

[Y][Y][C] Luminous Blade: 120 damage. Discard an Energy attached to this Pokemon.

When a Pokemon-EX has been Knocked Out, your opponent takes 2 Prize cards.

Weakness: Metal (x2)
Resistance: Darkness (-20)
Retreat: 2

---

M Gardevoir-EX* – Fairy / Psychic – HP210
Mega Evolution – Evolves from Gardevoir-EX

When 1 of your Pokemon becomes a Mega Evolution, your turn ends.

[Y][C] Despair Ray: 110+ damage. Discard as many of your Benched Pokemon as you like. This attack does 10 more damage for each Benched Pokemon you discarded in this way.

When a Pokemon-EX has been Knocked Out, your opponent takes 2 Prize cards.

Weakness: Metal (x2)
Resistance: Darkness (-20)
Retreat: 2

---

Klefki* – Fairy – HP70
Basic Pokemon

Ability: Wonder Lock
Once during your turn (before your attack), if this Pokemon is on your Bench, you may discard all cards attached to this Pokemon and attach it to 1 of your Pokemon as a Pokemon Tool card. Prevent any damage done to the Pokemon this card is attached to by attacks from your opponent's Mega Evolution Pokemon. If this card is attached to a Pokemon, discard this card at the end of your opponent's turn.

[Y][C] Fairy Wind: 30 damage.

Weakness: Metal (x2)
Resistance: Darkness (-20)
Retreat: 1

---

Xerneas – Fairy – HP130
Basic Pokemon

[Y] Geomancy: Choose 2 of your Benched Pokemon. For each of those Pokemon, search your deck for a [Y] Energy card and attach it to that Pokemon. Shuffle your deck afterward.

[Y][Y][C] Rainbow Spear: 100 damage. Discard an Energy attached to this Pokemon.

Weakness: Metal (x2)
Resistance: Darkness (-20)
Retreat: 2

---

Xerneas BREAK – Fairy – HP150
BREAK Evolution – Evolves from Xerneas

Xerneas BREAK retains the attacks, Abilities, Weakness, Resistance, and Retreat Cost of its previous Evolution.

[Y][Y] Life Stream: 20x damage. This attack does 20 damage times the amount of Energy attached to all of your Pokemon.

---

Druddigon* – Dragon – HP120
Basic Pokemon

[C][C] Proud Fang: 20+ damage. If your opponent has any Pokemon BREAK in play, this attack does 60 more damage.

[R][W][C] Giga Claw: 100 damage. Flip 2 coins. If both of them are tails, this attack does nothing.

Weakness: Fairy (x2)
Resistance: none
Retreat: 2

---

Deino* – Dragon – HP60
Basic Pokemon

[C] Roar: Your opponent switches his or her Active Pokemon with 1 of his or her Benched Pokemon.

[P][D] Headbutt Bounce: 20 damage.

Weakness: Fairy (x2)
Resistance: none
Retreat: 2

---

Zweilous – Dragon – HP90
Stage 1 – Evolves from Deino

[C] Double Attack: 20x damage. Flip 2 coins. This attack does 20 damage times the number of heads.

[P][D][C] Power Press: 80 damage. Discard 1 Energy card attached to this Pokemon.

Weakness: Fairy (x2)
Resistance: none
Retreat: 3

---

Hydreigon – Dragon – HP150
Stage 2 – Evolves from Hydreigon

[C][C] Ruthless Bite: 40 damage. During your opponent's next turn, the attacks of the Defending Pokemon do 40 less damage.

[P][D][C] Dark Burn: 50x damage. You may discard as many [D] Energy attached to your Pokemon as you like. This attack does 50 damage times the number of [D] Energy discarded in this way.

Weakness: Fairy (x2)
Resistance: none
Retreat: 3

---

Hydreigon BREAK – Dragon – HP190
BREAK Evolution – Evolves from Hydreigon

Hydreigon BREAK retains the attacks, Abilities, Weakness, Resistance, and Retreat Cost of its previous Evolution.

[P][D][D][C] Calamity Blast: 150 damage. Choose 3 Energy attached to this Pokemon and discard them. Choose 2 of your opponent's Benched Pokemon. This attack does 50 damage to each of them. (Don't apply Weakness and Resistance when damaging the Bench.)

---

Meowth – Colorless – HP60
Basic Pokemon

[C] Stall: You may only use this attack if at the start of the game you went second. Discard an Energy attached to 1 of your opponent's Pokemon.

[C][C] Scratch: 20 damage.

Weakness: Fighting (x2)
Resistance: none
Retreat: 1

---

Persian* – Colorless – HP90
Stage 1 – Evolves from Meowth

[C] Raid: 30+ damage. If this Pokemon evolved from Meowth during this turn, this attack does 30 more damage.

[C][C] Fury Swipes: 30x damage. Flip 3 coins. This attack does 30 damage times the number of heads.

Weakness: Grass (x2)
Resistance: none
Retreat: 1

---

Aipom* – Colorless – HP60
Basic Pokemon

[C] Fiddle Around: Look at the top 3 cards from your opponent's deck and put them back in any order.

[C][C] Tail Jab: 20 damage.

Weakness: Fighting (x2)
Resistance: none
Retreat: 1

---

Ambipom* – Colorless – HP90
Stage 1 – Evolves from Aipom

[C] Furry Chance: 20+ damage. Discard the top card of your opponent's deck. If that card is an Energy card, this attack does 60 more damage.

[C][C] Double Tackle: 50x damage. Flip 2 coins. This attack does 50 damage times the number of heads.

Weakness: Fighting (x2)
Resistance: none
Retreat: 1

---

Rufflet* – Colorless – HP60
Basic Pokemon

[C] Reckless Charge: 20 damage. This Pokemon does 10 damage to itself.

Weakness: Lightning (x2)
Resistance: Fighting (-20)
Retreat: 1

---

Braviary* – Colorless – HP120
Stage 1 – Evolves from Ruflett

[C][C] Ambush: 20+ damage. Flip a coin. If heads, this attack does 50 more damage.

[C][C][C] Sky Drop: 120- damage. This attack does 120 damage minus 20 damage for each [C] in your opponent's Active Pokemon's Retreat Cost.

Weakness: Lightning (x2)
Resistance: Fighting (-20)
Retreat: 2

---

Fletchling* – Colorless – HP40
Basic Pokemon

[C] Peck: 20 damage.

Weakness: Lightning (x2)
Resistance: Fighting (-20)
Retreat: 1

---

Fletchinder* – Colorless – HP70
Stage 1 – Evolves from Fletchling

[C] Glide: 30 damage.

Weakness: Lightning (x2)
Resistance: Fighting (-20)
Retreat: 1

---

Talonflame* – Colorless – HP130
Stage 2 – Evolves from Fletchinder

Ability: Gale Wings
If this Pokemon is in your hand when you are setting up to play, you may put it face down as your Active Pokemon.

[C] Aero Blitz: 40 damage. Search your deck for up to 2 cards and put them into your hand. Shuffle your deck afterwards.

Weakness: Lightning (x2)
Resistance: Fighting (-20)
Retreat: 0

---

Hawlucha* – Colorless – HP80
Basic Pokemon

Ability: Sudden Cyclone
When you play this Pokemon from your hand onto your Bench, you may have your opponent switch his or her Active Pokemon with 1 of his or her Benched Pokemon.

[C][C] Acrobatics: 20+ damage. Flip 2 coins. This attack does 20 more damage for each heads.

Weakness: Lightning (x2)
Resistance: Fighting (-20)
Retreat: 1

---

Armor Fossil Shieldon* – Trainer
Item

Look at the bottom 7 cards of your deck. You may reveal a Shieldon you find there and put it onto your Bench. Shuffle the other cards back into your deck.

You may play as many Item cards as you like during your turn (before your attack).

---

Captivating Pokepuff* – Trainer
Item

Your opponent reveals his or her hand. Put any number of Basic Pokemon you find there onto your opponent's Bench.

You may play as many Item cards as you like during your turn (before your attack).

---

Claw Fossil Anorith* – Trainer
Item

Look at the bottom 7 cards of your deck. You may reveal an Anorith you find there and put it onto your Bench. Shuffle the other cards back into your deck.

You may play as many Item cards as you like during your turn (before your attack).

---

Gardevoir Spirit Link* – Trainer
Item

Attach a Pokemon Tool to 1 of your Pokemon that doesn't already have a Pokemon Tool attached to it.

Your turn does not end if the Pokemon this card is attached to becomes M Gardevoir-EX.

You may play as many Item cards as you like during your turn (before your attack).

---

You can play this card only if you took it a s a face-down Prize card, before you put it into your hand.

Flip a coin. If heads, take 1 more Prize card.

You may play as many Item cards as you like during your turn (before your attack).

---

Ninja Boy* – Trainer
Supporter

Choose 1 of your Basic Pokemon in play. Search your deck for a Basic Pokemon and switch it with that Pokemon. (Any attached cards, damage counters, Special Conditions, turns in play, and any other effects remain on the new Pokemon.) Shuffle the first Pokemon into your deck.

You may play only 1 Supporter card per turn (before your attack).

---

Pokemon Ranger* – Trainer
Supporter

Remove all effects of attacks on each player and his or her Pokemon.

You may play only 1 Supporter card per turn (before your attack).

---

Special Charge* – Trainer
Item

Shuffle 2 Special Energy cards from your discard pile into your deck.

You may play as many Item cards as you like during your turn (before your attack).

---

Steelix Spirit Link* – Trainer
Item

Attach a Pokemon Tool to 1 of your Pokemon that doesn't already have a Pokemon Tool attached to it.

Your turn does not end if the Pokemon this card is attached to becomes M Steelix-EX.

You may play as many Item cards as you like during your turn (before your attack).

---

Volcanion-EX* – Fire / Water – HP180
Basic Pokemon

Ability: Steam Up
Once during your turn (before your attack), you may discard a [R] Energy card from your hand. If you do, during this turn, your Basic [R] Pokemon's attacks do 30 more damage to your opponent's Active Pokemon (before applying Weakness and Resistance).

[R}[R][C] Volcanic Heat: 130 damage. This Pokemon can't attack during your opponent's next turn.

When a Pokemon-EX has been Knocked Out, your opponent takes 2 Prize cards.

Weakness: Water (x2)
Resistance: none
Retreat: 3

---

Steelix-EX* – Metal – HP180
Basic Pokemon

[M][C][C][C] Wild Edge: 80+ damage. You may do 50 more damage. If you do, this Pokemon does 20 damage to itself.

[M][C][C][C][C] Iron Tail: 100x damage. Flip a coin until you get tails. This attack does 100 damage times the number of heads.

When a Pokemon-EX has been Knocked Out, your opponent takes 2 Prize cards.

Weakness; Fire (x2)
Resistance: Psychic (-20)
Retreat: 4

---

M Steelix-EX – Metal / Fighting – HP240
Mega Evolution – Evolves from Steelix-EX

When 1 of your Pokemon becomes a Mega Evolution, your turn ends.

[M][C][C][C][C] Canyon Axe: 160 damage. Does 10 damage to each of your opponents Benched Pokemon. (Don't apply Weakness and Resistance for Benched Pokemon.)

When a Pokemon-EX has been Knocked Out, your opponent takes 2 Prize cards.

Weakness; Fire (x2)
Resistance: Psychic (-20)
Retreat: 4

---

Magearna-EX* – Metal – HP160
Basic Pokemon

Ability: Mystic Heart
Prevent all effects of your opponent's attacks, except damage, done to each of your Pokemon that has any [M] Energy attached to it. (Existing effects are not removed.)

[M][C][C] Soul Blaster: 120 damage. During your next turn, this Pokemon's Soul Blaster attack's base damage is 60.

When a Pokemon-EX has been Knocked Out, your opponent takes 2 Prize cards.

Weakness: Fire (x2)
Resistance: Psychic (-20)
Retreat: 1

---

Gardevoir-EX* – Fairy – HP170
Basic Pokemon

[Y][C] Link Blast: 30+ damage. If this Pokemon and your opponent's Active Pokemon have the same amount of Energy attached to them, this attack does 70 more damage.

[Y][Y][C] Luminous Blade: 120 damage. Discard an Energy attached to this Pokemon.

When a Pokemon-EX has been Knocked Out, your opponent takes 2 Prize cards.

Weakness: Metal (x2)
Resistance: Darkness (-20)
Retreat: 2

---

M Gardevoir-EX* – Fairy / Psychic – HP210
Mega Evolution – Evolves from Gardevoir-EX

When 1 of your Pokemon becomes a Mega Evolution, your turn ends.

[Y][C] Despair Ray: 110+ damage. Discard as many of your Benched Pokemon as you like. This attack does 10 more damage for each Benched Pokemon you discarded in this way.

When a Pokemon-EX has been Knocked Out, your opponent takes 2 Prize cards.

Weakness: Metal (x2)
Resistance: Darkness (-20)
Retreat: 2

---

Pokemon Ranger* – Trainer
Supporter

Remove all effects of attacks on each player and his or her Pokemon.

You may play only 1 Supporter card per turn (before your attack).

---

Professor Sycamore – Trainer
Supporter

Discard your hand and draw 7 cards

You may play only 1 Supporter card per turn (before your attack).

---

Volcanion-EX* – Fire / Water – HP180
Basic Pokemon

Ability: Steam Up
Once during your turn (before your attack), you may discard a [R] Energy card from your hand. If you do, during this turn, your Basic [R] Pokemon's attacks do 30 more damage to your opponent's Active Pokemon (before applying Weakness and Resistance).

[R}[R][C] Volcanic Heat: 130 damage. This Pokemon can't attack during your opponent's next turn.

When a Pokemon-EX has been Knocked Out, your opponent takes 2 Prize cards.

Weakness: Water (x2)
Resistance: none
Retreat: 3

---

Gardevoir-EX* – Fairy – HP170
Basic Pokemon

[Y][C] Link Blast: 30+ damage. If this Pokemon and your opponent's Active Pokemon have the same amount of Energy attached to them, this attack does 70 more damage.

[Y][Y][C] Luminous Blade: 120 damage. Discard an Energy attached to this Pokemon.

When a Pokemon-EX has been Knocked Out, your opponent takes 2 Prize cards.

Weakness: Metal (x2)
Resistance: Darkness (-20)
Retreat: 2