'Generations' Packs and 'Mew Collection' Finally Revealed!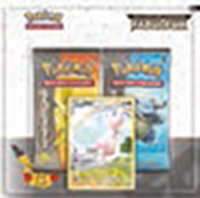 We now have a very low resolution dummy image of the European version of the "Mew Mythical Pokemon Collection." As you can see to the right, the Mew promo is full art (as I originally reported) and comes with two Generations booster packs featuring Charizard and Blastoise.
…And now, we finally have information about what the Generations packs are all about. *drum roll* The Generations packs will celebrate "20 years of Pokemon" and will include cards such as Pikachu, Snorlax, Ninetales-EX, Jolteon-EX, M Charizard-EX, and M Venusaur-EX.
You mean… this Ninetales-EX? And that Jolteon-EX? Is this going to be a mashup of recent cards from Japan that they're not going to fit into our sets? Or are those Ninetales and Jolteon new?
"Their power is not to be underestimated," and with that statement especially, it's obvious most of these cards are meant for modern play and likely won't be reprints of old cards. But still, who knows? If it is a mashup, and that BREAK Starter Pack does have a few classic reprints, maybe they'll be in these packs too? (That's an "if" on top of an "if.")
Oddly (or perhaps not so oddly), the description only highlights Red & Blue Pokemon even though the booster packs are called "Generations." Maybe they'll be reprints of the 150 Pokemon from over 20 years, but with modern artwork and templates?
Ugh, now I'm even more confused. Let's just say "The mystery continues!" I don't think we have all of the information yet.