'Arceus and the Jewel of Life' to Air This Year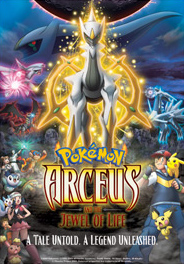 The Pokemon.com mailbag has revealed that Arceus and the Jewel of Life will air sometime this year. The movie will most likely air on Cartoon Network in November or December and then be released on DVD early next year. Thanks go to Bee101 for alerting us to this!
Q: I noticed that the movie Pokemon: Arceus and the Jewel of Life is coming out! But, when exactly do you think it will air?

A: We think it will air this year. Actually, we don't just think, we know – stay tuned for more details!
This will be the first time two Pokemon movies have aired in the same year (Shaymin and Arceus). Many thought the movie would air this year considering Arceus was revealed on Pokemon.com in early August, the movie's dub title was revealed a week later, the Platinum: Arceus set was revealed to be the next set to be released in November, and now Spiky-Eared Pichu (as it will now be called in the dub) is being shown on Pokemon.com in an ad. All of the above was obviously hinting at what was coming!
If you would like to read a full summary of the movie, you can check out our detailed movie guide from July when the movie first aired in Japan. Arceus and the Jewel of Life is the last movie in the trilogy that began with The Rise of Darkrai and continued with Giratina and the Sky Warrior.