Domino's Pizza Promotion in Japan: Slowpoke, Slowbro, Slowking Promos
Japanese Domino's Pizzas are now holding a new Pokemon TCG promotion where players can earn new LEGEND-series promo cards. Last year, Domino's held a promotion where you could receive holographic Munchlax, Snorlax, and Snorlax LV.X promos.
If you buy a kids' meal from October 26th to December 10th, you will receive holographic Slowpoke and Slowbro promos in addition to a Pokemon TCG guidebook. The first image below shows what people can receive. Part two of the promotion takes place at an unknown time later in the year. Buying a kids' meal during that time period will grant you another holo Slowpoke promo, a new holo Slowking promo (a Great Pokemon), and Ho-Oh and Lugia card sleeves. Partial translations of the card images are below, courtesy of Bangiras.
It is interesting to note that in Slowpoke's first attack, there is a new, black rectangular symbol. This will apparently be a new symbol to represent "Basic Pokemon." The new LEGEND series cards feature updated wording that makes it easier for newer players to understand the effects of cards; it seems image labels for certain game mechanics will now also be used to help with clarity.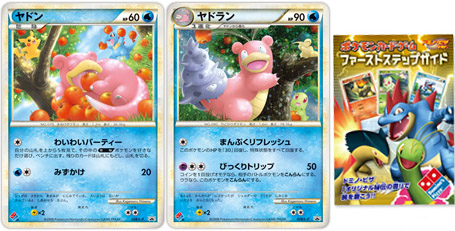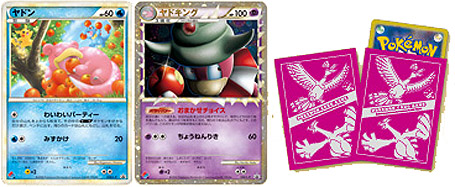 Slowpoke – Water – HP60
Basic Pokemon

[C] Raucous Party: Look at the top 5 cards of your deck. Choose any number of Basic Pokemon cards you find there and play them on your Bench. Return the remaining cards to your deck and shuffle.
[W][C] Water Kick: 20 damage.

Weakness: Lightning x2
Resistance: none
Retreat: 2

---

Slowbro – Water – HP90
Stage 1 Pokemon – Evolves from Slowpoke

[C] Complete Refresh: Remove 30 damage and all Special Conditions from this Pokemon.
[P][C][C] Surprise Trip: 50 damage. Flip a coin, if heads the opponent's Active Pokemon is now Confused. If tails, this Pokemon is now Confused.

Weakness: Lightning x2
Resistance: none
Retreat: 2

---

Slowking – Psychic – HP100
Stage 1 Great Pokemon – Evolves from Slowpoke

PokePower: Your Choice – Unknown effect (too small to read).

[P][C][C] Super Psy: 60 damage.

Weakness: Psychic x2
Resistance: none
Retreat: 2