Movie 12 English Title: 'Arceus and the Jewel of Life'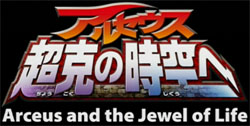 During the Locarno International Film Festival in Switzerland yesterday, the Arceus movie was presented to audiences for the first time outside of Asia. Important Pokemon officials were present, including Kunihiko Yuyama, the director of the Pokemon films, "Shokotan," the voice actress of Notched-Ear Pichu and the artist of the film's ending song, and even Pikachu. Each gave their positive thoughts on the movie, with Shokotan providing a live performance of the film's J-Pop song, Antenna of the Heart.
As a part of the presentation, one of the Japanese trailers for the movie was shown with an English voice-over and subtitles, which you can watch below. The narrator stated the following:
To conquer means to overcome one's limits. The legendary Pokemon battle continues as suddenly, Arceus appears. Arceus… what is the secret behind his anger and what will happen to Ash and his friends? This summer, the mystery unfolds… Pokemon the movie, the conclusion to the battle: Arceus and the Jewel of Life.
Thus, the official English title of the movie will most likely be Arceus and the Jewel of Life. Arceus is pronounced as "Ar-say-iss" in the trailer instead of the common fan pronunciation of "Ar-cee-uss," so perhaps that is how the name is actually pronounced. Of course, movie trailers often mispronounce names incorrectly (like the Ponyo commercial currently airing in America), so this may not turn out to be true.
You can watch the full-blown presentation of the movie at the festival in the second video below. The trailer shown is in the first video in case you do not want to watch the entire presentation. The second video is 160 MBs and about 28 minutes long, so it may take a while to load.