"Shiny Treasure ex" Officially Revealed!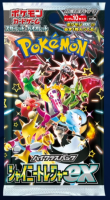 Shiny Treasure ex has been officially revealed in Japan! We first learned of the set through trademark listings seven months ago.
The set will release in Japan on December 1st and will include 190 cards before secret rares.
The set will feature a ton of shiny Pokemon as secret rares! All of them are reprints from the last year, but with alternate shiny artwork. This is typical of past shiny sets like VMAX Climax and Shiny Star V.
Many other shiny reprints were also teased:
Shiny Treasure ex will feature a high number of secret rare cards — for example, shiny Charizard ex will be card #331/190. Thus, we can safely assume there will be over 150 secret rare cards in this set. (Shiny Star V featured 190 cards in its main set and 140 secret rares, for a total of 330 cards.)
Shiny Treasure ex is Japan's annual reprint set, so it will mostly contain reprinted cards in its main set and maybe 15-30 brand new cards. These reprint sets help ensure cards from the last year are available to Japanese players and collectors.
So far, just one new card has been revealed:
Your opponent reveals their hand. Draw 2 cards for each Supporter card you find there.

You may play only 1 Supporter card during your turn.
These sets also feature card arts that were released first in English – this is usually how Japan receives promos we get throughout the year in our special boxes and prerelease kits:
As with all High Class Sets, each Shiny Treasure ex booster pack will come with 10 cards. Each booster pack will also come with a guaranteed Pokemon ex.
We expect Shiny Treasure ex will become part of our unnamed Scarlet & Violet 4.5 set in January.