"Raging Surf" To Feature Water-type Garchomp ex!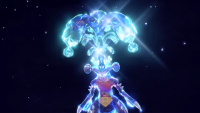 New product listings for Raging Surf show the set will see the release of TCG accessories featuring a Terastal Water-type Garchomp ex! This includes a deck box for 550 yen, card sleeves for 1100 yen, and a rubber playmat for 3300 yen.
As posted before, Raging Surf will release in Japan on September 21st. The set will feature 62 cards before secret rares, including Gholdengo ex and Garchomp ex. We also think we may see Palafin ex. A "Starter Set Terastal Mewtwo ex" and "Starter Set Terastal Skeledirge ex" will also release alongside the set.
We should see Raging Surf become part of our November set.
Raging Surf will be the second Japanese set to feature Terastal Pokemon of unusual types. The first will be July's Ruler of the Black Flame, which will feature a Darkness-type Charizard ex. It will release in English as August's Obsidian Flames.