Draining the Swamp – Countering Mew with Galarian Moltres / Leafeon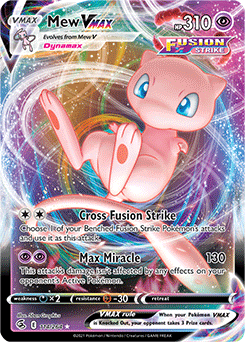 Hello PokeBeach readers! Isaiah here, happily bringing you another article! By now, Fusion Strike has been out for nearly a month, and it's beginning to settle into the metagame more than ever: the gap between Mew VMAX / Genesect V and the rest of the format is pretty significant, and growing larger by the day. The most potent challenger to this powerhouse so far has been the format's Single Strike decks, namely Single Strike Urshifu VMAX / Umbreon VMAX and Gengar VMAX, both of which I covered in my last article. However, as prominent as Single Strike decks may be in the current metagame — they make up a collective metagame share of around 15% — they still fall short, with a win rate of only around 50% and only a slight favorability against Mew VMAX decks, which is unfortunate considering that their primary role in Standard is to take down decks that have Weakness to Darkness-type and Fighting-type Pokemon.
After seeing Single Strike's disappointing win rate, especially against Mew VMAX, many players have begun to seek out new options for taking down the powerhouse. One option is the classic Zacian V / Zamazenta V, which takes advantage of the fact that Mew VMAX seldom plays Tool Scrapper or Tool Jammer by putting forward large Pokemon V with Cape of Toughness attached. Another option is Jolteon VMAX with the classic combo of Marnie and Path to the Peak to damage Mew VMAX's draw engine. Other players are exploring different strategies involving Darkness-type Pokemon like Galarian Weezing / Sableye V. While all of these strategies are powerful, though, one of the most powerful so far has been the renewal of the Rapid Strike Urshifu VMAX / Galarian Moltres V deck that's been hanging on over the past few months. Here's a recent deck list from my good friend Luke Morsa of Celio's Network on YouTube:
This build plays a slightly larger Galarian Moltres V package in an effort to make a straight–Galarian Moltres V game plan more reliable against Mew VMAX while still having the consistent Rapid Strike Urshifu VMAX option in other matchups. In general, this deck should be reasonably favored against Mew VMAX, but due to the natural inconsistencies and unreliability of the low Energy count, low
Boss's Orders
count, and two strategies that do not complement each other particularly well, the deck can struggle to win games, even against good matchups.
However, it got my mind thinking about the other options out there for Galarian Moltres V. Around the same time Rapid Strike Urshifu VMAX / Galarian Moltres V started popping up again, a different deck with a similar goal, Leafeon VMAX / Galarian Moltres V, also came to light. The idea of this deck is to use the same Galarian Moltres V strategies against decks that are weak to Darkness, but to switch to Leafeon VMAX at other times. Leafeon VMAX is a situationally better alternative attacker than Rapid Strike Urshifu VMAX, and it's also much easier to use. The earliest lists for this archetype looked something like the following list, which was piloted by titallytan to a second-place finish in an online tournament:
While I liked the idea of this deck, especially with the incorporation of Leafeon VMAX over Rapid Strike Urshifu VMAX, I felt the build was still lacking. Notably, this deck list in particular has dipped particularly low on consistency cards in favor of a far more teched-out build. As such, it doesn't properly run with the consistency of either a Leafeon VMAX or a Galarian Moltres V deck, and instead it ends up as an awkward mix of both.
With that said, I was a huge fan of where this deck was going conceptually, so I sought to improve it. One idea that has hung around in the back of my head since rotation is the possibility of a Galarian Moltres V / Inteleon deck, but as much as I wanted this to work, the concept was just not feasible by itself. However, a lot of the problems I was having on the theory end are solved by the inclusion of a small Leafeon VMAX package, which shores up some of the matchups that are hard for Galarian Moltres V to handle on its own, such as the Single Strike decks. With that concept in mind, I got to work on creating my version of the deck — a build I would call "Galarian Moltres V / Leafeon VMAX." While the name change might seem a bit superficial, I think of it as clarifying the change in focus of the deck. This build is a Galarian Moltres V deck first, and a Leafeon VMAX deck second.
---
This concludes the public portion of this article.
If you'd like to continue reading, consider purchasing a PokeBeach premium membership! If you're not completely satisfied with your membership, you can request a full refund within 30 days.
Each week we post high-quality content from some of the game's top players. Our article program isn't a corporate operation, advertising front, or for-profit business. We set our prices so that we can pay the game's top players to write the best content for our subscribers. Each article topic is carefully selected, goes through multiple drafts, and is touched up by our editors. We take great pride in our program!