Netflix Launching Collectibles Show Featuring the Pokemon TCG: Call For Entries!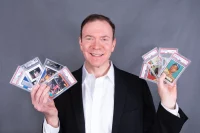 A reality TV show for trading cards and sports collectibles will soon be coming to Netflix!
Brent Montgomery, the producer of Pawn Stars, has inked a deal with Netflix to create an unscripted show featuring Ken Goldin and his company Goldin Auctions (pictured).
For those who don't know, Goldin Auctions is well-known in the hobby industry for arranging auctions of sports collectibles and trading cards, including Pokemon. They've brokered the most valuable Pokemon TCG auctions of all time, such as a PSA 10 Charizard that sold in March for a record-breaking $390,000. They deal with other card games too.
In phone calls to PokeBeach, Goldin's Jared Mast and founder Ken Goldin confirmed the show would "definitely" feature the Pokemon TCG.
The premise of the show is currently under wraps. However, I would assume we'll see auctions of rare items, meet collectors, watch how Goldin conducts their business behind the scenes, and hear expert testimony. (As a director and producer myself, that's what I would do! :x)
If you would like to be involved in the show, Goldin is asking PokeBeach's readers to send in photos of valuable or meaningful Pokemon TCG items they would want to auction off. Readers are asked to submit to <[email protected]> with the subject "PB Collection Photos."
The show is currently in pre-production but hasn't begun filming. A pilot episode has already been filmed, which is standard affair in the entertainment industry for new shows. As of writing The Pokemon Company is not involved with the show. (Despite their upcoming Netflix Pokemon show, though that's still in its early stages.)
This collectibles show was pitched to several cable channels and streaming services this year, including The History Channel, but Netflix ultimately won the bid. Lately, streaming giants are aggressively purchasing reality shows to fill their slates. Not only do viewers want to binge them, but they're cheaper and quicker to make than scripted shows. Last year, three of the ten most popular shows on Netflix were reality shows, including Tiger King.