'Pokemon Super Premium Collection: Mew and Mewtwo' in October!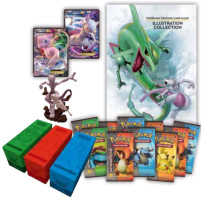 We now have news of an exciting new 20th anniversary product!
A "Pokemon Super Premium Collection: Mew and Mewtwo" will hit store shelves on October 3rd (my birthday, and the day Edward Elric burned down his house :p). It'll cost a whopping $79.99.
The box will come with Mew-EX and Mewtwo-EX promos, one figure of both Pokemon together, 10 Generations booster packs, three collector's boxes with 12 dividers to hold everything (featuring Venusaur, Charizard, and Blastoise), an art book that goes behind the scenes with Pokemon TCG illustrators, and a PTCGO code card. You can see all its contents here. ->
The Mew and Mewtwo promos appear to be alternate art reprints of Mew-EX from Dragons Exalted and Mewtwo-EX from BREAKthrough. Since they're numbered as new promos, it means the old cards will survive future rotations.
The art book is almost certainly a translated version of the "Pokemon TCG Illustration Collection" book that was released in Japan on December 13th, 2014. Especially since it has the same cover art. The Japanese book featured 192 pages and cost around $20 in Japan, which helps account for why our English product is so expensive.