'Volcanion and the Mechanical Magiana' Movie Poster!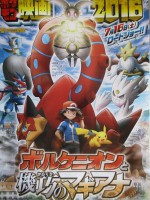 CoroCoro has revealed the second movie poster for Volcanion and the Mechanical Magiana, the 19th movie. It will premiere in Japan on July 16th. Magiana was leaked online earlier today.
Volcanion and Ash will try to rescue Magiana from Azoth Kingdom, the mechanical city featured in the film. (Note: the little blurb under Magiana doesn't say anything important.)
The early movie posters don't always end up showing the Pokemon that will appear in the final film. But if Mega Alakazam turn out to be in the movie, this may explain why it's the star of XY10, Awakening of Psychic Kings, which will be released on March 18th. Since Volcanion won't be downloadable in March yet, they're probably saving it for a June set to promote the film.
When the movie is released in America, perhaps we'll finally get that shiny M Gengar-EX promo. Or maybe on Halloween?
Update: Another image. I guess its face doesn't move since it's always making the same :o expression.