Shiny Gyarados-EX and M Gyarados-EX from XY9 'Rage of the Broken Sky'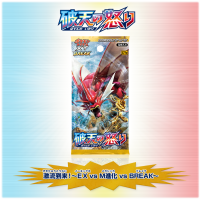 The official Japanese Pokemon-Card website has now unveiled XY9, Rage of the Broken Sky, which we first reported about two months ago. Thanks goes to Vincent for the translations!
The website revealed that the set's theme is Pokemon-EX vs. Pokemon BREAK vs. Mega Evolutions.
The set will be released in Japan on December 11th and in America on February 3rd as BREAKpoint.
Gyarados-EX – Water – HP180
Basic Pokemon

[C] Wet Weather: Flip a coin until you get tails. For each heads, search for your deck for a [W] Energy card and attach it to this Pokemon. Shuffle your deck afterwards.

[W][W][C][C] Splash Bang: 130 damage. Does 10 damage to each of your Benched Pokemon.

When a Pokemon-EX has been Knocked Out, your opponent takes 2 Prize cards.

Weakness: Lightning (x2)
Resistance: none
Retreat: 4

---

M Gyarados EX – Water – HP240
Mega Evolution – Evolves from Gyarados-EX

When 1 of your Pokemon becomes a Mega Evolution, your turn ends.

[C][C][C][C] Blast Geyser: 120+ damage. You may have this attack do 20 more damage times the number of [W] Energy attached to this Pokemon. If you do, discard the top 2 cards from your deck.

When a Pokemon-EX has been Knocked Out, your opponent takes 2 Prize cards.

Weakness: Lightning (x2)
Resistance: none
Retreat: 2
(BTW I finally was able to fix the server two weeks ago, so no more crashes!)