Four 'Lost Link' Cards and Promos Revealed!
As reported back in January, the next Japanese set is a 40-card mini-set called Lost Link, which will feature cards with attacks related to the Lost Zone mechanic. After a few weeks of no updates, the official Pokemon card website just revealed four cards from the set, three of which we have not seen before; Bangiras has translated them below, and you can click their thumbnails for larger images.
Four new promos were revealed as well. Zangoose and Lost Remover will be given out at events like Japan's Gym Challenges; they are actually from Lost Link, but are future reprints with the set logo's stamp. Two unrelated promos the site also posted are Espeon and Umbreon, both Pokemon Prime, which will be given to players who win an almost impossible amount of battles under the Pokemon Card Game's point system. They will each be a "Special Rank" promo, which we assume will be worth around 7,200 points each (a Raichu Prime promo was released last year as a "Hyper Rank" promo, worth 5,200 points – only one has been spotted on the Internet, which Heerosferret bought from an auction for $500). They will probably be rarer than the old Japanese Espeon * and Umbreon * promos. Translations and images of these are further below.
Darkrai & Cresselia LEGEND – Darkness / Psychic – HP150
Legendary Pokemon

Combine 2 Darkrai & Cresselia LEGEND cards in your hand and play them on your Bench.

[D][D][C][C] Lost Crisis: 100 damage. Place 2 Energy attached to this Pokemon in the Lost Zone. Place a Pokemon that's Knocked Out by damage from this attack and all cards attached to it in the Lost Zone.
[P] Invitation of the Moon: Choose any number of damage counters on your opponent's Pokemon and move them onto your opponent's Pokemon in any way you like.

If this Pokemon is Knocked Out, your opponent takes 2 Prize cards.

Weakness: Fighting / Psychic (x2)
Resistance: none
Retreat: 2

---

Mew – Psychic – HP60
Basic Pokemon

Poke-Body: Lost Link
This Pokemon can use any printed attack on the Pokemon in either player's Lost Zone. (If it doesn't have the necessary Energy attached to it for an attack, it can't use it.)

[P] Read and Place: Place 1 Pokemon card from your deck in the Lost Zone. Shuffle your deck afterward.

Weakness: Psychic (x2)
Resistance: none
Retreat: 0

---

Lucario – Fighting – HP90
Stage 1 – Evolves from Riolu

[C][C] Dimension Sphere: Does 30 damage plus an additional 20 damage times the number of Pokemon cards in your Lost Zone.
[F][F][C] Sky Uppercut: 70 damage. This attack's damage isn't affected by Resistance.

Weakness: Psychic (x2)
Resistance: none
Retreat: 1

---

Lost World – Stadium

Each player may, during his or her turn, end the game and declare himself or herself the winner if the opponent has 6 or more Pokemon cards in his or her Lost Zone. You can only play 1 Stadium card next to your Active Pokemon during your turn. If a Stadium with a different name comes into play, discard this card.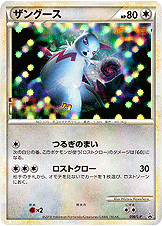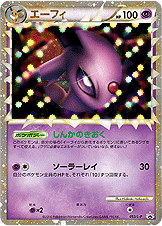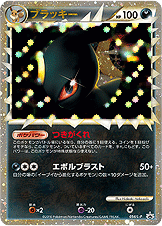 Zangoose – Colorless – HP80
Basic Pokemon

[C] Swords Dance: During your next turn, the base damage for this Pokemon's Lost Claw attack is 60 instead of 30.
[C][C][C] Lost Claw: 30 damage. Choose 1 card from your opponent's hand without looking, and place it in the Lost Zone.

Weakness: Fighting (x2)
Resistance: none
Retreat: 2

---

Lost Remover – Trainer

Place 1 Special Energy attached to an opponent's Pokemon in the Lost Zone. You can use any number of Goods cards during your turn.

---

Espeon (Prime) – Psychic – HP100
Stage 1 – Evolves from Eevee

Poke-Body: Evolutionary Memory
This Pokemon can use any printed attack on your Pokemon in play that Evolve from Eevee. (If it doesn't have the necessary Energy attached to it for an attack, it can't use it.)

[P][C] Solar Ray: 30 damage. Each of your Pokemon in play recovers 10 HP.

Weakness: Psychic (x2)
Resistance: none
Retreat: 1

---

Umbreon (Prime) – Darkness – HP100
Stage 1 – Evolves from Eevee

Poke-Power: Moon Veil
You can use this power once during your turn, if this Pokemon is your Active Pokemon. Flip a coin, if heads return this Pokemon and all cards attached to it to your hand. This power can't be used if this Pokemon is affected by a Special Condition.

[D][C][C] Evo Blast: Does 50 damage plus an additional 10 damage times the number of Pokemon that Evolve from Eevee that you have in play.

Weakness: Fighting (x2)
Resistance: Psychic (-20)
Retreat: 1