'Platinum: Arceus' Product Images, Set Logo, Set Description
Update (10:30 AM): Added exclusive booster pack, theme deck, and product images below.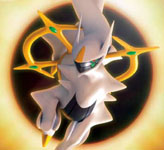 The set logo for Platinum: Arceus has been revealed, as you can see below next to the official press release. We have also learned that the set's two theme decks will be named "Flamemaster" and "Stormshaper," featuring the Fire-type and Lightning-type Arceus cards respectively. As reported previously, the set is based off the Japanese Advent of Arceus set and will be released in stores on November 4th, with prereleases taking place the last two weekends of October.
Additionally, the poster pack that will be released with the set will feature one of the Japanese Arceus movie promos, as shown in this picture. It comes with two booster packs of the set, two POP-series packs, the holo Arceus card, and a double-sided poster showing all the cards in the set. It will retail for $9.99.
The blister pack image below shows that the Majestic Dawn Darkrai will be included, but it's just a placeholder image – the real card is unknown. The blister pack will however come with the Arceus coin shown.
Stepping out of ancient times comes a Pokémon so mighty that legends say it shaped the universe itself! The Pokémon TCG: Platinum – Arceus expansion introduces the Alpha Pokémon Arceus, one of the most amazing Pokémon ever! Harness and wield this awesome power or rise to its incredible challenge! Capture previously unseen Pokémon LV.X to aid you in this titanic struggle, and turn the tide of battle with all-new Trainer and Stadium cards. Prepare to face your greatest test…

With new gameplay, new Trainer cards, and an exceptional subset of the new Alpha Pokémon Arceus, the Pokémon TCG: Platinum – Arceus expansion will give players everything they need to control the powers of one of the most powerful Pokémon ever! Platinum – Arceus features over 100 new cards and remains
compatible with previous releases.

Different versions of the new Alpha Pokémon Arceus, including 3 Arceus LV.X!
Theme decks built around 2 different types of Arceus
Cool new Trainer cards that uniquely support Arceus!
Exciting holographic parallel set for players and collectors alike
Over 100 cards in all!