EDIT: Flygon from EX Holon Phantoms added below.
---
Just… two… more… days.
---
The Next Japanese Set – And as foreshadowed by my post yesterday, we bring you the next Pokemon TCG Japanese set – The Furthest Ends of Offense and Defense. This set will be the last Delta Species set of the series, and will be completely made up of only Delta Species Pokemon, with eight Pokemon-ex being in the set (Delta Species), as well as two Pokemon-* (Delta Species). The theme of the set is an island far away, where Delta Species Pokemon thrive (maybe even fight?). The theme decks will consist of 60 cards this time around instead of the usual 30, will have two holo cards in them, and a new coin design. Gardevoir ex (fire-type, DS) and Tyranitar ex (lightning type, DS) will be featured in them. The set will also have 98 cards, and it will be released on June 29th. I wonder… could this be the last set before Diamond and Pearl, being that it is the last Delta Species set, or could there still be a few more sets before we get that far? If the next set is to come out after this one in late September / early October, and if Diamond and Pearl are to come out during this year (even though it is not guaranteed yet), September or October would probably be the time they debut, thus making a perfect entrance for a TCG set featuring them. Who knows, though. Thanks to Vincent for this info!
---
Bye-Bye Card Sleeve Art – Effective April 24th, card sleeves with art on the back of them, including ones featuring Pokemon art, will not be allowed in tournaments. This comes from Mike Liesik, head of POP, who made the announcement on the POP forums today. Looks like we will only be allowed to use solid color or transparent sleeves from now on, or no sleeves at all.
Originally posted by Mike Liesik on the POP Forums:

With the increase in popularity of art-backed sleeves, a wide array of designs are now available to players. These new sleeves continue to push the envelope in order to draw players' attention. Unfortunately, many of these new sleeves depict images that are contrary to Pokémon's desired brand image.

In addition to the matter of inappropriate imagery, there is also an issue of potential cheating. The complexity of the art on many of these sleeves creates a far greater ability for a dishonest player to mark his or her cards without a judge discovering those marks. While Pokémon Organized Play has yet to learn of a player using these sleeves to mark cards, we are aware that it is a possibility.

Taking these two issues into account, Pokémon Organized Play has decided to reverse its policy on art-backed sleeves. Effective April 24th, 2006, the use of art-backed sleeves at all non-Prerelease Premier Events is strictly prohibited. The use of art-backed sleeves at all other sanctioned Pokémon Organized Play tournaments is subject to the approval of the event's Head Judge.
---
Flygon from EX Holon Phantoms – Pokemon.no has posted up Flygon from EX Holon Phantoms. It is much clearer than that first Flygon image we put up a few weeks ago. Click the thumbnail below to view.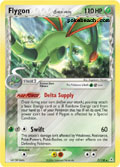 ---
PokeBeach Strategists – If you are a PokeBeach Strategist, please go to the PokeBeach Strategist forum immediately. You have one day left to fulfill what is required in there.