More EX Legend Maker Scans Added, Deck Box – Thanks to Pokeblob and PokeMontoya, we have added thirteen new scans to our [EX Legend Maker page]. There are some new scans, as well as scans that have replaced those official, low-quality images. An interesting note is that Banette ex still has a space in front of its name, thus having retained its error from the Pokemon.no official image. The good news is, though, that PUI added the "Evolves from Shuppet" text that was missing on the official image from before. Interesting stuff. Oddish196 has also sent us a picture of the EX Legend Maker deck box you get at the pre-releases, which you can see by clicking the thumbnail below.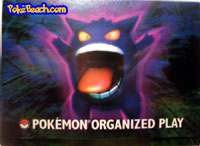 EX Legend Maker Theme Deck Lists – Our [Theme Deck Lists] page has been updated with the [EX Legend Maker theme decks]. The decks are actually constructed better than usual this time, including cards such as React Energy and Fieldworker.
Apprentice Page Updated with EX Legend Maker – Our [Apprentice Program] page has been updated with a beta EX Legend Maker patch, for those of you who want to start using the EX Legend Maker cards. Please note that this is a beta patch, and is not completely accurate, as we have not seen all of the English scans to have changed the attack names of Pokemon, which PUI likes to rename. We will probably have a 100% finished EX Legend Maker patch sometime during this week. Thanks goes to Venusaur, Worlds 2004-2005 champion, for having worked on the patch.