Deck Boxes, National Video Game
Deck Boxes for EX Holon Phantoms – We have discovered that EX Holon Phantoms pre-releases will have deck boxes, just like EX Legend Maker. Didn't see that one coming. PUI has apparently heard that people were not happy with the EX Legend Maker deck boxes being too small for sleeved cards, but cannot change them for Holon Phantoms, as they have already made the deck boxes for EX HP and/or they are already in production. They will, however, change the deck box sizing for the set afterwards (Miracle Crystal) if they decide to give them out again at pre-releases. More info on this later.
---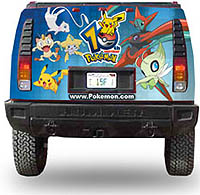 Pokemon Journey Across America – This is about the third time I have forgotten to cover this story. Starting February 25th and ending in July 22nd, a Pokemon tour will be journeying around the country in celebration of Pokemon's 10th anniversary. At each stop point (24 in total), a person will be able to enter a 12 and under or 13 and over Pokemon Gameboy tournament, and the winners from each age group across the country will win a trip for two to New York City in August to participate in the finals (hopefully not at the same time as Worlds). However, in order to enter the Gameboy tournaments, you will need to register on Pokemon.com through a quiz of some sort, in which full details have not been completely revealed yet. People who attend the events will also be able to receive a stamped Pokemon TCG card, meet Pikachu (whoopie!), participate in arts and crafts, play in a Pokemon Trading Card Game play area, visit a 10th anniversary lounge, view upcoming product launches and anniversary initiatives, and most important of all – download Celebi and all of the Pokemon listed below this paragraph to their Ruby / Sapphire / Emerald / FR / LG games (which were chosen based on what fans voted for on Pokemon.com a few weeks ago). Methinks that the reason both Japan and America are pumping up Pokemon fans' Gameboy games with Pokemon is because of Diamond and Pearl coming, since you will be able to trade over your Advanced Generation game Pokemon to them. This could also mean that Diamond and Pearl will not have a lot of previous generation Pokemon in them, since it seems both Japan and America are making it extremely easy for fans to complete their collections so that they can transfer their Pokemon over to Diamond and Pearl when they finally come out (opinion, not fact).
Pokemon you can download to your games: Celebi, Bulbasaur, Charizard, Blastoise, Pikachu, Alakazam, Articuno, Zapdos, Moltres, Dragonite, Typhlosion, Espeon, Umbreon, Raikou, Entei, Suicune, Tyranitar, Blaziken, Absol, Latias, y Latios.
List of locations the tour will be visiting.