Oddish Promo from "Path to the Peak" Now Releasing at Hobby Stores, Along with Free TCG Accessories!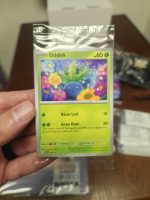 We've learned the Oddish promo from Path to the Peak is beginning to release at participating hobby stores!
The promo is included in the Paradox Rift marketing kit. Each kit includes 50 copies.
Hobby stores can order marketing kits from TPCi for each set. They include signage the stores can display to advertise the latest set as well as freebies to give out to customers. The stores give out the freebies at their own discretion.
The Paradox Rift marketing kit includes:
Fabric Banners (24″ x 36″)
Double-Sided Store Signage (17″ x 22″)
Holiday Greeting Cards (pack of 50)
Charizard UltraPRO Binder
Pikachu Dice Bags (pack of 25)
Path to the Peak Post Cards (pack of 50)
Path to the Peak Oddish Promo Cards (pack of 50)
You will need to check your local gaming store to see if they received the freebies.
Thanks goes to @st00ben for taking these photos for us!