Pokemon Van Gogh Promo Cards Revealed!
Update (Thursday): The promotion did not launch today, but the Pokemon Center announced this afternoon that "it is coming" and to "stay tuned." A few Van Gogh items randomly appeared and disappeared on the Pokemon Center website this morning, but the promotion did not ultimately launch yet.
---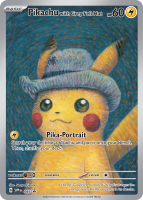 As we discovered a few weeks ago, there will indeed be promo cards given out to celebrate Pokemon's collaboration with the Van Gogh Museum in Amsterdam!
TPCi has announced that a promo "Pikachu with Grey Felt Hat" will be given to those who make qualifying purchases on the Pokemon Center website. The promo will also be given to attendees who complete a "Pokemon Adventures" activity at the museum itself. The exhibit will run from September 28th through January 7th.
The card's artwork is inspired by Vincent Van Gogh's "Self Portrait with Grey Felt Hat."
To get the Pikachu promo online, the Pokemon Center will release an exclusive range of "Pokemon x Van Gogh Museum" merchandise featuring art from the collaboration. You will get the Pikachu promo with each qualifying Van Gogh items you purchase. The merchandise and promotion will go live tomorrow.
Items that will be available include a special Vincent Van Gogh inspired Pikachu plush, TCG sleeves, Van Gogh inspired figures of Pikachu and Eevee, poster prints, a jigsaw puzzle, and more. Only a few product images have been revealed.
The merchandise will be based on artwork of Smeargle, Eevee, Sunflora, and other Pokemon that were commissioned in Van Gogh's style. The Van Gogh museum will also launch its own line of exclusive Pokemon merchandise.
The museum's FAQ seems to reference promo cards that will only be available at the museum. If so, they could be based on the above paintings.
Update: Pokemon's press release hasn't revealed any additional promo cards, so there may not be any. The museum's website could just be worded erroneously. The situation is currently unclear based on what's been officially stated.
Update #2: We contacted the museum and they stated that only the Pikachu card will be available. This means you won't have to visit the museum to get any exclusive cards.
Update #3: The museum has now reworded their FAQ to clear up the confusion.
This collaboration is to celebrate the 50th anniversary of the Van Gogh Museum. According to TPCi, the collaboration is aimed at introducing new audiences to the work of Vincent van Gogh:
Both Vincent van Gogh's work and Pokemon have a special connection with Japanese art and culture. Japanese prints had a profound impact on Vincent's art and on his world view. Speaking to his brother Theo in a letter in September 1888, Vincent said, "And we wouldn't be able to study Japanese art, it seems to me, without becoming much happier and more cheerful, and it makes us return to nature, despite our education and our work in a world of convention."
---
The museum also announced its Pokemon activities for the collaboration. Again, the exhibit will run from September 28th through January 7th. Tickets can only be booked online in advance.
'Pokémon at the Van Gogh Museum' presentation (permanent collection, floor 1)
Several of Vincent van Gogh's most famous works from the permanent collection of the Van Gogh Museum served as inspiration for six paintings made by artists from The Pokémon Company. Examples include, Pikachu shown in a work that is inspired by Self-portrait with Grey Felt Hat (1887), the Pokémon Sunflora is hidden in a variant of Van Gogh's famous Sunflowers (1889), and you can find Snorlax and Munchlax relaxing in a work inspired by The Bedroom (1888). You can admire these six specially created paintings on the first floor of the Rietveld building (Rietveldgebouw)

A Pokémon Adventure activity (6 years+, activity leaflets are handed out at the Atrium)
A Pokémon Adventure leaflet will lead visitors along the works by Vincent van Gogh that served as inspiration for the paintings in the six-piece special presentation, Pokémon at the Van Gogh Museum. During the activity, visitors will discover the museum and the stories behind the paintings. Once participants complete the Pokémon Adventure activity, they can hand in their completed leaflet for a special Pikachu x Van Gogh Museum promo card (subject to availability). The Pokémon Adventure leaflet is available in both Dutch and English.

Pokémon x Van Gogh online learning material – Van Gogh at School (Upper primary lower secondary education level)
Vincent greatly admired everything related to Japan, and Japanese prints taught him to look at the world differently. The use of flat planes of strong colors, everyday subjects and attention for detail in nature spoke to him. Using the Pokémon x Van Gogh collaboration as a starting point, pupils will learn about the connection between Van Gogh and Japan, and about how inspiration can work in two directions. The teaching materials are available in both Dutch and English.

'How to draw Pikachu' video guide (Restaurant Rietveldgebouw 0)
A guided video activity will be available within the museum which teaches visitors how to draw the fan favorite Pokémon Pikachu and encourages them to try it for themselves.

The Van Gogh Museum Shop will also feature an exclusive range of Pokémon x Van Gogh Museum merchandise featuring art from the collaboration.
---
This isn't the first time Pokemon has partnered with an art museum to release promo cards. Back in 2018, the Tokyo Metropolitan Art Museum held an Edvard Munch exhibition in which his famous painting The Scream was on display for the first time in Japan. To celebrate the exhibition, Pokemon partnered with the museum to release five promo cards inspired by his painting. The promos were only available to those who attended the museum.