"Raging Surf" Booster Pack Artwork Revealed!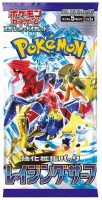 An image of Raging Surf's booster pack has just been posted to the official Japanese PTCG website. However, no news post has been made yet. It may have been uploaded early by accident.
The booster pack shows the set will feature Gholdengo ex, a Tera Water-type Garchomp ex, Groudon ex, Tapu Koko ex, and Jirachi ex.
We previously revealed SV3a Raging Surf would feature Gholdengo ex and a Tera Water-type Garchomp ex. It will feature 62 cards before secret rares. A "Starter Set Terastal Mewtwo ex" and "Starter Set Terastal Skeledirge ex" will also release alongside the set.
The set will release in Japan on September 22nd. We first discovered its trademark in December 2022.
We expect Raging Surf to be incorporated into Paradox Rift, our November set.