More "Crown Zenith" Products Releasing in February!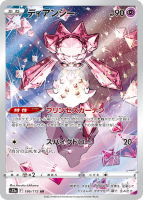 We've now learned our special Crown Zenith set will feature staggered releases. This is similar to Pokemon GO, which saw its products release over a three month period.
As posted before, the first Crown Zenith products will release on January 20th. This includes a V Box and an Elite Trainer Box featuring Lucario.
Today we've learned a second wave of products will release on February 17th. This includes…
A VMAX Box with five booster packs, a VMAX promo, and a V promo
Pin Collections with three booster packs, a promo card, and a pin
Mini Tins with two booster packs and a sticker sheet
We should be getting our first Scarlet & Violet set in February (if history holds true). This means Crown Zenith would see its second wave of products release around the same time. It wouldn't be surprising if we see even more Crown Zenith products release in March as well.
Crown Zenith will include cards from Japan's VSTAR Universe, which releases in December. Our set will also contain cards that were cut from recent English sets as well as promo cards that haven't released here yet.