TPCI Releases Alternative Play Handbook: Raid Format, 2v2 Team Battles, & More!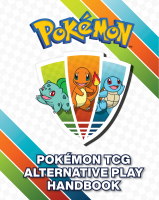 The Pokemon Company International recently released its Alternative Play Handbook, which details a number of alternative ways to play with cards from the Pokemon Trading Card Game. If you've ever gone to large events like regional or international championships and played in any of the side events there, you may be familiar with a few of the alternative play options detailed in the new handbook. Among the formats described in the new handbook are beginner formats like Poké Catch, intermediate formats like Pack Battles, and the real highlights of the documents for more experienced players: the advanced formats including a new 2v2 Team format and a brand-new Raid format.
To be clear: these are not official formats for sanctioned tournament play. These are for-fun ways to play with Pokemon cards that break away from the norm. Below is the list of all of the formats the document covers:
Beginner Formats
Poké Catch
Booster Fun
Multi-Experience (Grow & Go)
Basic Battle
Intermediate Formats
Pack Battle
Menu of Limitations
Achievements
Advanced Formats
Team Format (2v2)
Raid Format
Gym Leader Challenge
Ditto Draft
RAID FORMAT
My personal favorite of the formats detailed in the new handbook is the Raid format—a more skill-based way of imitating the raid battles introduced in Pokémon Sword and Pokémon Shield than the 'Raid Battles' introduced in the past. In these new raid battles, players work together to take down a raid boss, typically represented by a jumbo card. I got a chance to play a few raid battles at NAIC this year. My very first raid boss was the rather formidable Tapu Koko-GX.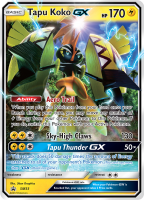 Most players will take one look at Tapu Koko-GX and think, "It has barely any HP. How could it possibly be much of a threat?" The answer is this: you're not trying to knock out the raid boss based on its HP. Instead, players work to take the raid boss down by attacking into it and by so doing lost zoning the raid boss's deck. Let me explain, starting with the basics of how to play.
Setting Up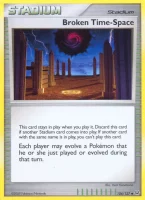 In the raid format, each player sets up play as usual, drawing their hand of 7 cards, setting their prizes, etc. Unlike in Standard play, there is no coin flip to determine who goes first: the players always go first. From there, players simultaneously take their turns in preparation to attack the raid boss. During their first turn, players may evolve Pokémon (as if Broken Time-Space were in play, though only for the first turn) and players may also play Supporter cards and can attack.
The raid boss has no starting hand and does not set up any prize cards. If players have to take a mulligan during setup, the boss does not draw any additional cards.
Supporter Cards
Speaking of Supporter cards—they work slightly different to how you'd expect. Suppose you're in a raid with three other players. Because a total of four players are in the raid against the boss, up to 4 Supporter cards may be played between you. This means, for example, that if you needed, you could play three Supporter cards in the same turn, but it would leave your allies with just 1 Supporter card left between them! Making things even more interesting is the next change to Supporter cards: you can play them for your allies.
Let's say that John has a Water Energy card in his discard pile but has no Melony in hand to attach it to his Active Origin Forme Palkia VSTAR. In Standard play, it's likely that his only option at this point would be to pass. However, Tabitha happens to have two Melony in her hand. She only needs the one this turn and uses it to attach an Energy card to her Active Starmie V, then draw three cards. Seeing her ally in need of help, she plays the second Melony for John. As he has a Water Energy card in his discard pile, he resolves its effect: he attaches the discarded Water Energy to his active Origin Forme Palkia VSTAR and draw three cards, as if he himself had played Melony. As Tabitha has now used both Melony, both are discarded.
The Boss's Turn
As players complete their turns, the damage the players deal is totaled up. Then, the raid boss's turn begins.
At the start of the raid boss's turn, it draws a card, plus 1 card for each player in the raid. (In a four-player raid, the boss would draw 5 cards at the start of its turn.) Now here's where the raid boss can get a bit daunting: the raid boss always resolves each card it draws. If a raid boss draws 5 Supporter cards, it resolves the effects of each of those Supporter cards, one at a time. Any Energy that it "puts into its hand" is immediately attached to itself, and any tool cards and Stadium cards that it draws into replace whatever is currently in play. All Energy attached to the raid boss are treated as basic Rainbow Energy—they always provide every energy type at once.
The Boss Attacks
Once the raid boss has finished resolving the effects of the cards it has drawn, it attacks, choosing one of the attacks it has energy for at random and discards an Energy for each Energy in the attack cost.
This brings us back to Tapu Koko-GX. It has just two attacks, one of which is its GX attack, Tapu Thunder-GX. As you've probably guessed by now, the raid boss can use its GX attack over and over and over again, provided it has the energy and that GX attack is randomly selected. The same is true for VSTAR Power attacks. In my first raid against Tapu Koko-GX, it wiped out every Active Pokémon in play with its GX attack. When a player's Pokémon is Knocked Out, the players draw the Prize cards their opponent would normally draw. If a player had an active Ice Rider Calyrex VMAX that was Knocked Out, it would be discarded, and that player would take three of their own Prize cards for that knockout. Once a player runs out of Prize cards, they are out of the game. If all players are out, the raid boss wins.
After the boss finishes its turn by attacking, the damage the players built up against it during their turn finally "hits" the raid boss. For an example, let's say Tabitha, John, Françoise, and Michael took their turns and did a total of 500 damage to the raid boss. During its turn, the raid boss drew and played a Hyper Potion, healing off 120 of that damage, leaving 380 damage. The damage is then divided by the number of players x 10 (so 40 in this raid's case), rounded down. The number resulting from this calculation is the number of cards that will be placed in the Lost Zone from the top of the raid boss's deck. If the raid boss has no cards left to place in the Lost Zone, the players win. In our example raid, 9 cards are placed into the Lost Zone from the raid boss's deck and 20 damage remains "on" the raid boss.
Then, the players start their next turn.
Full Rules
I've covered the basics of the raid format. It's really quite fun to play and I hope many people pick it up and give it a shot at their local league with friends or at home with their families. In the Alternative Play Handbook on the Play! Pokémon Rules & Resources page, an example Raid Boss Deck is provided, so you can build the raid boss's deck and then put all of your unused jumbo cards to use as raid bosses.