Upcoming 'Pokemon GO' Collaboration Announced for Pokemon Leagues!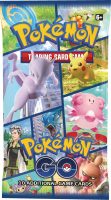 We've learned of a future collaboration between Pokemon Leagues and Pokemon GO! It will be called the "Pokemon GO at League" program.
The program will turn eligible Pokemon Leagues into live Play! Pokemon PokeStops in Pokemon GO. The program will also include special activities for both Pokemon TCG and Pokemon GO players to enjoy, including exclusive TCG promos and Pokemon GO distributions.
No further details or dates are known at this time. However, TPCi has given League owners until May 15th to opt out. This implies the program will start in the coming months, likely around the release of the Pokemon GO set in July.
Back in June 2021, Pokemon announced "Starting soon, Trainers who complete research in Pokemon GO and tasks at Pokemon League events will also receive Professor Willow's card while supplies last." Nothing ever came of this announcement, but it sounds similar to this new "GO at League" program. It's possible TPCi intended for the program to start last year but their plans were delayed by the pandemic.
This new program will likely be a permanent addition to Pokemon Leagues in an effort to introduce players of the popular game to the Play! Pokemon program. Adding Leagues as PokeStops will advertise Pokemon Leagues like never before and will hopefully convert some of those Pokemon GO players into TCG fans!