Pikachu Illustrator Sells for Record $900,000, Now Most Expensive Pokemon Card Ever Sold!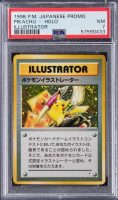 The holy grail of Pokemon cards — a Pikachu Illustrator promo — sold last night for a record $900,000. Goldin Auctions brokered the bidding process. The first bid was placed at $75,000 and ultimately reached $900,000 after 34 bids. The card was graded as a PSA 7 "near mint."
This purchase not only makes this the most expensive Pokemon card of all time, but also the most expensive Pokemon TCG transaction of all time.
This latest purchase demonstrates how the value of Pokemon cards has skyrocketed during the pandemic. It's only a matter of time before a Pokemon card hits the $1 million mark.
In late 2019, a Pikachu Illustrator sold at a New York auction for $195,000. In 2020, a PSA 9 copy sold on a Japanese marketplace for $233,000. In December 2020, an Italian fan traded $900,000 of Charizard cards and Mitsuhiro Arita illustrations for one; this wasn't a direct purchase, however.
In February 2021, a PSA 7 copy sold at auction for $375,000. During the same month, America DJ Steve Aoki purchased an ungraded one from Japan for $420,000. It later turned out to be a PSA 9.
While there are other cards in the Pokemon TCG that are technically rarer than this Pikachu card, such as the "No. 1" and "No. 2" Mewtwo cards, Pikachu usually fetches a higher price due to the unique artwork and the fact it's Pikachu. It's also illustrated by Atsuko Nishida, the creator of Pikachu.
The "Pikachu Illustrator" cards were originally awarded through three card illustrator contests in CoroCoro magazine in 1998. Winners received a copy of the promo plus their winning artwork on a promo card. It's estimated a maximum of 39 copies of the cards were awarded. However, only 24 are still known to exist thanks to PSA grading.