'Pikachu & New Friends' Blister in November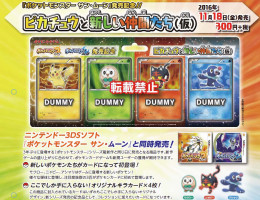 A new blister pack called "Pikachu & New Friends" will be released in Japan on November 18th. It'll feature exclusive holo promos of Pikachu, Rowlet, Litten, and Popplio.
As with the past few generations, this is a "lead-in" or "preview" product to introduce the latest generation of Pokemon to the TCG. It's the first Generation VII TCG product!
As I said earlier this week, going off past patterns, the first Sun and Moon set should be released in Japan this December and internationally in February. News of this November product now seems to heavily hint at that timeline. (Our XY12 set in November will likely be a combination of the cards from September's 20th Anniversary Concept Pack set and whatever unique cards are released in CP5.)