'Generations' Elite Trainer Box Product Image, Buy in July!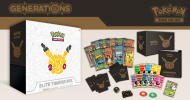 Pokemon has revealed the product image for the Generations Elite Trainer Box!
As posted before, it will come with a Shaymin-EX promo, ten Generations booster packs, 65 black-and-gold card sleeves with Pokemon's 20th anniversary logo, 45 basic Energy cards with a new design, 6 damage-counter dice, a coin flip die, two acrylic Status Condition markers, a collector's box to hold everything (with four dividers), a Generations player guide, and a PTCGO code card.
The box will be released on September 14th. We do not know its price yet.
Update: Pokemon has also announced you can buy the box exclusively through PokemonCenter.com starting July 1st! Then in September, the box will be available in regular stores.