'Fates Collide' Set List!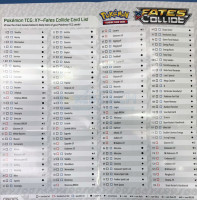 We now have the official Fates Collide set list, as you can see to the right!
The set is comprised of all the cards from XY10 Awakening of the Psychic King, its two decks, and XY-P promos Marowak and Energy Reset. The last two are the only surprises.
Fates Collide will be released in stores on May 4th, but prereleases take place this weekend and next weekend. To find one near you, use the event locator on Pokemon.com.
The spoilers below are for the Japanese set and may not use the English wording or names.
Later today I'll have a post up detailing the Fates Collide prereleases.
Shuckle – Grass – HP80
Basic Pokemon

[C] Hide Berries: Draw 2 cards. Then, put 1 card from your hand on the bottom of your deck.

[C][C] Wrap: 30 damage. Flip a coin. If heads, your opponent's Active Pokemon is now Paralyzed.

Weakness: Fire (x2)
Resistance: none
Retreat: 1

---

Burmy – Grass – HP60
Basic Pokemon

[C] Hang Down: 10 damage

Weakness: Fire (x2)
Resistance: none
Retreat: 1

---

Wormadam – Grass – HP110
Stage 1 – Evolves from Burmy

[G] Solar Ray: 20 damage. Heal 20 damage from each of your Pokemon.

[G][C][C] Leaf Cutter: 60+ damage. Flip a coin. If heads, this attack does 30 more damage.

Weakness: Fire (x2)
Resistance: none
Retreat: 2

---

Mothim – Grass – HP90
Stage 1 – Evolves from Burmy

Ability: Wormathought
As often as you like during your turn, you may move 1 damage counter from 1 of your Wormadam to another 1 of your Pokemon.

[C][C][C] Gust: 60 damage.

Weakness: Lightning (x2)
Resistance: Fighting (-20)
Retreat Cost: 0

---

Snivy – Grass – HP60
Basic Pokemon

[G] Blot: 10 damage. Heal 10 damage from this Pokemon.

Weakness: Fire (x2)
Resistance: none
Retreat: 1

---

Servine – Grass – HP70
Stage 1 – Evolves from Snivy

Ability: Snake Bind
You may use this Ability once when you play this card from your hand to evolve 1 of your Pokemon. Flip a coin. If heads, your opponent's Active Pokemon is now Paralyzed.

[G] Vine Whip: 20 damage.

Weakness: Fire (x2)
Resistance: none
Retreat: 1

---

Serperior – Grass – HP140
Stage 2 – Evolves from Servine

[C] Coil: 40 damage. During your next turn, the damage from this Pokemon's attacks do 60 more damage.

[G] Slash Down: 80 damage. This Pokemon can't use Slash Down during your next turn.

Weakness: Fire (x2)
Resistance: none
Retreat: 2

---

Deerling – Grass – HP60
Basic Pokemon

[C] Find A Friend: Search your deck for 1 Pokemon card, reveal it, and put it into your hand. Shuffle your deck afterward.

Weakness: Fire (x2)
Resistance: none
Retreat: 1

---

Moltres – Fire – HP120
Basic Pokemon

[R] Combustion: 20 damage.

[R][R][C][C] Flare Bird: 80+ damage. You may do 40 more damage. If you do, this Pokemon does 20 damage to itself.

Weakness: Water (x2)
Resistance: Fighting (-20)
Retreat: 1

---

Fennekin – Fire – HP60
Basic Pokemon

[R] Will-O-the-Wisp: 10 damage.

[C][C] Tail Whip: Flip a coin. If heads, your opponent's Active Pokemon can't attack during your opponent's next turn.

Weakness: Water (x2)
Resistance: none
Retreat: 1

---

Fennekin – Fire – HP50
Basic Pokemon

[C] Invite Out: Flip a coin. If heads, switch your opponent's Active Pokemon with 1 of his or her Benched Pokemon.

Weakness: Water (x2)
Resistance: none
Retreat: 1

---

Braixen – Fire – HP80
Stage 1 – Evolves from Fennekin

[R] Destruction Fire: 20 damage. Flip a coin. If heads, discard an Energy attached to your opponent's Active Pokemon.

[C][C] Attractive Ribbon: 30 damage.

Weakness: Water (x2)
Resistance: none
Retreat: 1

---

Delphox – Fire – HP140
Stage 2 – Evolves from Braixen

[R] Flickering Flame: 40 damage. Your opponent's Active Pokemon is now Asleep.

[C][C][C] Psycho Storm: 20x damage. This attack does 20 damage times the number of Energy attached to all Pokemon (both yours and your opponent's).

Weakness: Water (x2)
Resistance: none
Retreat: 2

---

Delphox BREAK – Fire – HP180
BREAK Evolution – Evolves from Delphox

Delphox BREAK retains the attacks, Abilities, Weakness, Resistance, and Retreat Cost of its previous Evolution.

Ability: Flare Watch
Once during your turn (before your attack), you may search your deck for a [R] Energy and attach it to 1 of your Pokemon. Shuffle your deck afterward.

---

Seel – Water – HP80
Basic Pokemon

[W] Snow Ice: 10 damage.

Weakness: Metal (x2)
Resistance: none
Retreat: 2

---

Dewgong – Water – HP120
Stage 1 – Evolves from Seel

[W] Freezing Breath: 20 damage. Flip a coin. If heads, your opponent's Active Pokemon is now Paralyzed. If tails, your opponent's Active Pokemon is now Asleep.

[W][C][C][C] Aurora Beam: 100 damage

Weakness: Metal (x2)
Resistance: none
Retreat: 2

---

Omanyte – Water – HP80
Restored Pokemon – Put this card onto your Bench only with the effect of Helix Fossil

[W] Water Gun: 30 damage.

Weakness: Grass (x2)
Resistance: none
Retreat: 1

---

Omastar – Water – HP120
Stage 1 – Evolves from Omanyte

Ability: Restoration Beam
Once during your turn (before your attack), you may search your deck for a Restored Pokemon and put it onto your Bench. Shuffle your deck afterward.

[W][C] Spinning Attack: 60 damage.

Weakness: Grass (x2)
Resistance: none
Retreat: 2

---

Omastar BREAK – Water – HP140
BREAK Pokemon – Evolves from Omastar

Omastar BREAK retains the attacks, Abilities, Weakness, Resistance, and Retreat Cost of its previous Evolution.

Ability: Dangerous Tentacles
Once during your turn (before your attack), you may choose 1 of your opponent's Benched Pokemon-EX and switch it with his or her Active Pokemon.

---

Glaceon-EX – Water – HP170
Basic Pokemon

[W][C] Second Bite: 20+ damage. This attack does 10 more damage for each damage counter on your opponent's Active Pokemon.

[W][C][C] Crystal Ray: 70 damage. During your opponent's next turn, prevent all damage done to this Pokemon by Evolved Pokemon.

When a Pokemon-EX has been Knocked Out, your opponent takes 2 Prize cards.

Weakness: Metal (x2)
Resistance: none
Retreat: 2

---

White Kyurem – Water – HP130
Basic Pokemon

[W][C] Burning Icicle: 40 damage. If this Pokemon has any Fire Energy attached to it, choose 2 of your opponent's Benched Pokemon and do 20 damage to each of them. (Don't apply Weakness and Resistance for Benched Pokemon.)

[W][W][C] Blizzard Burn: 130 damage. This Pokemon can't attack during your next turn.

Weakness: Metal (x2)
Resistance: none
Retreat: 3

---

Binacle – Water – HP60
Basic Pokemon

[W][C] Swing Around: 10 damage. Flip 2 coins. If heads, this attack does 20 more damage times the number of heads.

Weakness: Grass (x2)
Resistance: none
Retreat: 2

---

Barbaracle – Water – HP100
Stage 1 – Evolves from Binacle

Ability: Hand Block
You can use this ability if you have a Stadium card in play. As long as this Pokemon is in play, your opponent can't attach any Special Energy cards from his or her hand.

[W][W][C] Claw Swipe: 70 damage.

Weakness: Grass (x2)
Resistance: none
Retreat: 3

---

Rotom – Lightning – HP70
Basic Pokemon

[L] Energy Draw: Search your deck for a Basic Energy card and attach it to this Pokemon. Shuffle your deck afterward.

[C][C] Plasmagic: Move 2 damage counters from each of your Pokemon with damage counters on them to your opponent's Active Pokemon.

Weakness: Fighting (x2)
Resistance: Metal (-2)
Retreat: 1

---

Alakazam-EX – Psychic – HP160
Basic Pokemon

Ability: Spoon Bending
When this Pokemon evolves into M Alakazam EX, you may place 2 damage counters on your opponent's Active Pokemon and 3 damage counters on 1 of your opponent's Benched Pokemon.

[P][C] Suppression: Place 3 damage counters on each of your opponent's Pokemon that has any Energy attached to it.

When a Pokemon-EX has been Knocked Out, your opponent takes 2 Prize cards.

Weakness: Psychic (x2)
Resistance:
Retreat: 2

---

M Alakazam-EX – Psychic – HP210
Mega Evolution – Evolves from Alakazam-EX

When 1 of your Pokemon becomes a Mega Evolution, your turn ends.

[P][C] Zen Force: 10+ damage. This attack does 10 damage plus 30 more damage for each damage counter on your opponent's Active Pokemon.

When a Pokemon-EX has been Knocked Out, your opponent takes 2 Prize cards.

Weakness: Psychic (x2)
Resistance:
Retreat: 1

---

Koffing – Psychic – HP60
Basic Pokemon

[P] Divide: Search your deck for up to 2 Koffing and put them onto your Bench. Shuffle your deck afterward.

Weakness: Psychic (x2)
Resistance: none
Retreat Cost: 2

---

Weezing – Psychic – HP110
Stage 1 – Evolves from Koffing

[C][C] Balloon Bomb: Flip 2 coins. For each heads, discard the top 2 cards of your opponent's deck.

[P][C][C] Dense Liquid: 80 damage. Both Active Pokemon are now Poisoned and Confused.

Weakness: Psychic (x2)
Resistance: none
Retreat: 3

---

Mew – Psychic – HP50
Basic Pokemon

Ability: Beginning Memories
This Pokemon can use the attacks of each of your Basic Pokemon in play. (You must still have the necessary Energy to use each attack.)

[C] Encounter: Search your deck for a Pokemon card, reveal it, and put it into your hand. Shuffle your deck afterwards.

Weakness: Psychic (x2)
Resistance: none
Retreat: 0

---

Spoink – Psychic – HP60
Basic Pokemon

[P] Rocket Jump: 30 damage. Flip a coin. If tails, this attack does nothing.

Weakness: Psychic (x2)
Resistance: none
Retreat: 1

---

Grumpig – Psychic – HP100
Stage 1 – Evolves from Spoink

[P] Head Walking: Choose a Basic Pokemon in your opponent's discard pile, put it onto their Bench, then place 3 damage counters on it.

[P][P] Beat Skip: 50 damage. Your opponent switch his or her Active Pokemon with 1 of his or her Benched Pokemon.

Weakness: Psychic (x2)
Resistance: none
Retreat: 2

---

Gothita – Psychic – HP50?
Basic Pokemon

[C][C] Psybeam: 20? damage. Your opponent's Active Pokemon is now Confused.

Weakness: Psychic (x2)
Resistance: none
Retreat: 1

---

Solosis – Psychic – HP30
Basic Pokemon

[P][C] Mini Link: 10+ damage. If there is a Solosis on your Bench, this attack does 30 more damage.

Weakness: Psychic (x2)
Resistance: none
Retreat: 1

---

Duosion – Psychic – HP60
Stage 1 – Evolves from Solosis

[P][C] Double Link: 10 damage. If there is a Solosis on your Bench, this attack does 30 more damage. If there is a Duosion on your Bench, this attack does 60 more damage.

Weakness: Psychic (x2)
Resistance: none
Retreat: 1

---

Reuniclus – Psychic – HP90
Stage 2 – Evolves from Duosion

[P][C] Link Fusion: 10+ damage. If there is a Solosis on your Bench, this attack does 30 more damage. If there is a Duosion on your Bench, this attack does 60 more damage. If there is a Reuniclus on your Bench, this attack does 90 more damage. (Yes, they stack – 190 damage.)

Weakness: Psychic (x2)
Resistance: none
Retreat: 1

---

Diglett – Fighting – HP40
Basic Pokemon

[F] Ram: 10 damage.

Weakness: Grass (x2)
Resistance: none
Retreat: 0

---

Marowak – Fighting – HP100
Stage 1 – Evolves from Cubone

Ability: Bodyguard
We're sorry about Toad. You and your hand are not affected by effects of your opponent's Pokemon's attacks. (Remove any existing effects on you and your hand).

[F][C] Bonemerang: 60x damage. Flip 2 coins. This attack does 60 damage times the number of heads.


Weakness: Grass (x2)
Resistance: none

---

Kabuto – Fighting – HP80
Restored Pokemon – Put this card onto your Bench only with the effect of Dome Fossil

[F] Mud Shot: 30 damage.

Weakness: Grass (x2)
Resistance: none
Retreat: 1

---

Kabutops – Fighting – HP150
Stage 1 – Evolves from Kabuto

[C][C] Stick To: 50 damage. Heal from this Pokemon the same amount of damage this attack does to your opponent's Active Pokemon.

[F][C][C] X-Scissors: 80 damage. Flip a coin, if heads this attack does an additional 60 damage.

Weakness: Grass (x2)
Resistance: none
Retreat: 2

---

Larvitar – Fighting – HP60
Basic Pokemon

[C] Reckless Charge: 20 damage. This Pokemon does 10 damage to itself.

Weakness: Grass (x2)
Resistance: none
Retreat: 1

---

Larvitar – Fighting – HP50
Basic Pokemon

[C] Mountain Bite: Discard the top card of your opponent's deck.

[C][C] Jab: 20 damage.

Weakness: Grass (x2)
Resistance: none
Retreat: 1

---

Pupitar – Fighting – HP80
Stage 1 – Evolves from Larvitar

[C] Thrash: 20+ damage. Flip a coin. If heads, this attack does 20? more damage. If tails, this attack does 20? damage to this Pokemon.

Weakness: Grass (x2)
Resistance: none
Retreat: 1

---

Regirock-EX – Fighting – HP180
Basic Pokemon

Ability: Regi Power
Each of your [F] Pokemon does 10 more damage to your opponent's Active Pokemon. (Excluding Regirock-EX.)

[F][F][F] Bedrock Press: 100 damage. During your opponent next turn, any damage done to this Pokemon by attacks is reduced by 20.

When a Pokemon-EX has been Knocked Out, your opponent takes 2 Prize cards.

Weakness: Grass (x2)
Resistance: none
Retreat: 3

---

Wormadam – Fighting – HP110
Stage 1 – Evolves from Burmy

[F] Sand Spray: 30 damage.

[C][C][C] Twin Bomber: 60+ damage. If you have a Mothim on your Bench, this attack does 60 more damage.

Weakness: Grass (x2)
Resistance: none
Retreat: 2

---

Riolu – Fighting – HP70
Basic Pokemon

[C] Double Smash: 10x damage. Flip 2 coins. This attack does 10 damage for each heads.

Weakness: Psychic (x2)
Resistance: none
Retreat: 1

---

Riolu – Fighting – HP60
Basic Pokemon

[F] Smash Punch: 30 damage. Flip a coin, if tails this attack does nothing.

Weakness: Psychic (x2)
Resistance: none
Retreat: 1

---

Lucario – Fighting – HP110
Stage 1 – Evolves from Riolu

[F] Centerline Punch: 40 damage

[F][C][C] Magnum Kick: 70 damage

Weakness: Psychic (x2)
Resistance: none
Retreat: 1

---

Hawlucha – Fighting – HP70
Basic Pokemon

[C] Backflip: Draw a card.

[F][C] Wicked Jab: 30 damage. Flip a coin. If heads, your opponent's Active Pokemon is now Paralyzed.

Weakness: Lightning (x2)
Resistance: Fighting (-20)
Retreat: 1

---

Carbink – Fighting – HP80
Basic Pokemon

Ability: Energy Keeper
As long as this Pokemon is in play, your Basic Pokemon's Basic Energy can't be discarded by effects of your opponent's attacks, Abilities, or Trainers.

[F][F][C] Stone Edge: 60+ damage. Flip a coin. If heads, this attack does 30 more damage.

Weakness: Grass (x2)
Resistance: none
Retreat: 1

---

Carbink – Fighting – HP90
Basic Pokemon

Ability: Safeguard
Prevent all effects of attacks, including damage, done to this Pokémon by Pokémon-EX.

[F][C] Power Gem: 40 damage.

Weakness: Grass (x2)
Resistance: none
Retreat: 1

---

Carbink BREAK – Fighting – HP110
BREAK Pokemon – Evolves from Carbink

BREAK Evolution: This Pokemon has the attacks, Abilities, Weakness, Resistance, and Retreat Cost of the Carbink it Break Evolved from.

[F] Diamond Gift: 20 damage. Attach 2 Energy cards from your discard pile to 1 of your Benched [F] Pokemon.

---

Zygarde – Fighting – HP90
Basic Pokemon

[F] Vigilance: Choose 1 of your opponent's Benched Pokemon and switch it with his or her Active Pokemon.

[F][C][C] Aura Break: 70 damage. The [D] or [Y] Pokemon that was damaged by this attack can't attack during your opponent's next turn.

Weakness: Grass (x2)
Resistance: none
Retreat: 1

---

Zygarde – Fighting – HP120
Basic Pokemon

[F][C] Rumble: 30 damage. Your opponent's Active Pokemon can't retreat during your opponent's next turn.

[F][F][C] Geo Strike: 120 damage. This attack does 10 damage to each of your Benched Pokemon. (Don't apply Weakness and Resistance for Benched Pokemon.)


Weakness: Grass (x2)
Resistance: none
Retreat: 2

---

Zygarde-EX – Fighting – HP190
Basic Pokemon

[F] Earth Pulse: 20 damage. This attack does 20 more damage if there's a Stadium card in play.

[F][C] Cell Storm: 60 damage. Heal 30 damage from this Pokemon.

[F][F][C] Ground Force: 100 damage.

When a Pokemon-EX has been Knocked Out, your opponent takes 2 Prize cards.

Weakness: Grass (x2)
Resistance: none
Retreat: 3

---

Umbreon-EX – Darkness – HP170
Basic Pokemon

[C] Night Veil: 20 damage. Discard any number of cards from your hand. Then, draw an equal number of cards from your deck.

[D][C][C] End Game: 70 damage. If damage from this attack Knocks Out your opponent's Active Mega Evolution Pokemon, take 2 additional Prize cards.

When a Pokemon-EX has been Knocked Out, your opponent takes 2 Prize cards.

Weakness: Fighting (x2)
Resistance: Psychic (-20)
Retreat: 1

---

Tyranitar – Darkness – HP160
Stage 2 – Evolves from Poopootar

Ability: Roar of Anger
You may use this Ability when you play this card from your hand to evolve 1 of your Pokemon. Attach as many [D] Energy cards from your discard pile to this Pokemon as Prize cards your opponent has taken.

[D][D][D][D][D] Dark Mountain: 150+ damage. Discard the top 2 cards of your deck. This attack does 50 more damage for each Supporter card discarded in this way.

Weakness: Fighting (x2)
Resistance: Psychic (-20)
Retreat: 4

---

Vullaby – Darkness – HP60
Basic Pokemon

[C] Leer: Flip a coin. If heads, your opponent's Active Pokemon is now Paralyzed.

[D][C][C] Cutter Wind: 40 damage.

Weakness: Lightning (x2)
Resistance: Fighting (-20)
Retreat: 1

---

Mandibuzz – Darkness – HP110
Stage 1 – Evolves from Vullaby

[C] Bone Drop: Choose 1 of your opponent's Pokemon that has an Ability. This attack does 60 damage to that Pokemon. (Don't apply Weakness and Resistance for Benched Pokemon.)

[D][C][C] Cutting Wind: 80 damage.

Weakness: Lightning (x2)
Resistance: Fighting (-20)
Retreat: 1

---

Wormadam – Metal – HP100
Stage 1 – Evolves from Burmy

[M] Revenge Attack: 20x damage. This attack does 20 damage times the number of damage counters on this Pokemon.

[M][C][C] Iron Head: 60+ damage. Flip a coin until you get tails. This attack does 20 more damage for each heads.

Weakness: Fire (x2)
Resistance: Psychic (-20)
Retreat: 2

---

Bronzor – Metal – HP60
Basic Pokemon

[M] Iron Defense: Flip a coin. If heads, prevent all effects of attacks, including damage, done to this Pokemon during your opponent's next turn.

[M][C] Hammer In: 20 damage.

Weakness: Grass (x2)
Resistance: Psychic (-20)
Retreat: 2

---

Bronzong – Metal – HP100
Stage 1 – Evolves from Bronzor

Ability: Steel Fortification
As long as this Pokemon is in play, prevent all damage done to your Benched Pokemon by your opponent's Pokemon's attacks.

[M][C][C] Guard Press: 60 damage. During your opponent's next turn, damage done to this Pokemon by attacks is reduced by 20.

Weakness: Fire (x2)
Resistance: Psychic (-2)
Retreat: 3

---

Bronzong BREAK – Metal – HP130
BREAK Pokemon – Evolves from Bronzong

BREAK Evolution: This Pokemon has the attacks, Abilities, Weakness, Resistance, and Retreat Cost of the Bronzong it Break Evolved from.

[M][C] Gold Rain: Discard as many [M] Energy attached to this Pokemon as you like. Then, choose a number of your opponent's Pokemon equal to the number of Energy you discarded (you may choose the same Pokemon multiple times). This attack does 30 damage to each of those Pokemon for each time you chose. (Don't apply Weakness and Resistance.)

---

Lucario – Metal – HP110
Stage 1 – Evolves from Riolu

[M] Vacuum Wave: 50 damage. This attack's damage isn't affected by Weakness or Resistance.

[M][C] Fight Alone: 30+ damage. If you have less Pokemon in play than your opponent, this attack does 60 more damage times the difference in the number of Pokemon you and your opponent have. (So if you have one Pokemon and your opponent has six, the attack does 30 damage + (60×5) = 330 damage).

Weakness: Fire (x2)
Resistance: Psychic (-20)
Retreat: 2

---

Genesect-EX – Metal – HP180
Basic Pokemon

Ability: Cassette Change
Once during your turn (before your attack), you may return a Pokemon Tool attached to this Pokemon to your hand.

[M][M][M] Rapid Blaster: 100+ damage. You may discard as many [M] Energy from this Pokemon as you like. This attack does 20 more damage for each [M] Energy discarded in this way.

When a Pokemon-EX has been Knocked Out, your opponent takes 2 Prize cards.

Weakness: Fire (x2)
Resistance: Psychic (-20)
Retreat: 2

---

Jigglypuff – Fairy – HP70
Basic Pokemon

[C] Pound: 10 damage.

[C][C] Rollout: 20 damage.

Weakness: Metal (x2)
Resistance: Darkness (-20)
Retreat: 2

---

Wigglytuff – Fairy – HP100
Stage 1 – Evolves from Jigglypuff

[C][C] Expand: 30 damage. During your opponent's next turn, any damage done to this Pokemon by attacks is reduced by 30 (after applying Weakness and Resistance.)

[C][C][C] Double Slap: 60 damage. Flip 2 coins. This attack does 60 damage times the number of heads.

Weakness: Metal (x2)
Resistance: Darkness (-20)
Retreat: 2

---

Mr. Mime – Fairy – HP80
Basic Pokemon

[Y] Mimic: Shuffle your hand into your deck. Then, draw a number of cards equal to the number of cards in your opponent's hand.

[C][C] Juggling: 20 damage. Flip 4 coins. This attack does 20 damage times the number of heads.

Weakness: Metal (x2)
Resistance: Darkness (-20)
Retreat: 1

---

Snubbull – Fairy – HP70
Basic Pokemon

[Y][C] Rampant Destruction: 50 damage. Flip a coin. If tails, this attack does nothing.

Weakness: Metal (x2)
Resistance: Darkness (-20)
Retreat: 2

---

M Altaria-EX – Fairy – HP220
Mega Evolution – Evolves from Altaria-EX

When 1 of your Pokemon becomes a Mega Evolution Pokemon, your turn ends.

[Y][C][C] Mist Purge: 100+ damage. If this Pokemon has any Special Energy attached to it, this attack does 30 more damage and heal 30 damage from each of your Pokemon.

When a Pokemon-EX has been Knocked Out, your opponent takes 2 Prize cards.

Weakness: Metal (x2)
Resistance: Darkness (-20)
Retreat: 2

---

Cottonee – Fairy – HP50
Basic Pokemon

[C] Fairy Wind: 10 damage.

Weakness: Metal (x2)
Resistance: Darkness (-20)
Retreat: 1

---

Whimsicott – Fairy – HP90
Stage 1 – Evolves from Cottonee

[Y] Light Step: 40 damage. Move an Energy from this Pokemon to 1 of your Benched Pokemon.

Weakness: Metal (x2)
Resistance: Darkness (-20)
Retreat: 0

---

Diancie-EX – Fairy – HP150
Basic Pokemon

Ability: Twinkle Veil
As long as this Pokemon is your Active Pokemon, any damage done to your Pokemon by attacks is reduced by 30.

[Y][C][C] Miracle Stage: 60+ damage. If there is a Stadium card in play, this attack does 50 more damage.

When a Pokemon-EX has been Knocked Out, your opponent takes 2 Prize cards.

Weakness: Metal (x2)
Resistance: Darkness (-20)
Retreat: 2

---

Kingdra-EX – Dragon – HP170
Basic Pokemon

[C] Heavy Storm: 20 damage. Discard any Stadium card in play.

[W][C][C][C] Dragon Trail: 60+ damage. This attack does 30 more damage for each basic Lightning Energy attached to this Pokemon.

When a Pokemon-EX has been Knocked Out, your opponent takes 2 Prize cards.

Weakness: Fairy (x2)
Resistance: none
Retreat: 1

---

Meowth – Colorless – HP70
Basic Pokemon

[C][C] Turmoil: Choose 1 of your opponent's Pokemon that has any damage counter on it. This attack does 50 damage to that Pokemon. (Don't apply weakness and resistance for Benched Pokemon.)

Weakness: Fighting (x2)
Resistance: none
Retreat: 1

---

Kangaskhan – Colorless – HP120
Basic Pokemon

[C][C] Chibi Punch: 40 damage.

[C][C][C][C] Mega Punch: 100 damage.

Weakness: Fighting (x2)
Resistance: none
Retreat: 3

---

Aerodactyl – Colorless – HP120
Restored Pokemon – Put this card onto your Bench only with the effect of Old Amber

[C] Bite: 30 damage.

[C][C] Jet Draft: 120 damage. Discard a Special Energy attached to your opponent's Active Pokemon.

Weakness: Lightning (x2)
Resistance: Fighting (-20)
Retreat: 0

---

Snorlax – Colorless – HP140
Basic Pokemon

[C][C][C] Roll Over: 30+ damage. This attack can be used even this Pokemon is Asleep. If this Pokemon is Asleep, it does 90 more damage.

[C][C][C][C] Swallow: 50 damage. Heal from this Pokemon the same amount of damage you did to the Defending Pokemon.

Weakness: Fighting (x2)
Resistance: none
Retreat: 4

---

Lugia – Colorless – HP120
Basic Pokemon

Ability: Pressure
When this Pokemon is your Active Pokemon, damage done to this Pokemon by your opponent's Pokemon's attacks is reduced by 20.

[C][C][C] Rising Burn: 60+ damage. If your opponent's Active Pokemon is a Pokemon-EX, this attack does 60 more damage.

Weakness: Lightning (x2)
Resistance: Fighting (-20)
Retreat: 2

---

Lugia BREAK – Colorless – HP150
BREAK Pokemon – Evolves from Lugia

Lugia BREAK retains the attacks, Abilities, Weakness, Resistance, and Retreat Cost of its previous Evolution.

[C][C][C][C] Destruction Wave: 150 damage. Discard 2 Energy attached to this Pokemon.

---

Whismur – Colorless – HP60
Basic Pokemon

[C] Pound: 10 damage.

[C][C] Round: 10x damage. Does 10 damage times the number of your Pokemon with a Round attack.

Weakness: Fighting (x2)
Resistance: none
Retreat: 2

---

Loudred – Colorless – HP90
Stage 1 – Evolves from Whismur

[C] Smash Kick: 10 damage.

[C][C][C] Stomp: 40+ damage. Flip a coin. If heads, this attack does 40 more damage.

Weakness: Lightning (x2)
Resistance: none
Retreat: 2

---

Exploud – Colorless – HP140
Stage 2 – Evolves from Loudred

[C][C][C] Ambush: 80+ damage. Flip a coin. If heads, this attack does 40 more damage.

[C][C][C] Cacophony: At the end of your opponent's next turn, discard the Defending Pokemon and all cards attached to it.

Weakness: Fighting (x2)
Resistance: none
Retreat: 2

---

Altaria-EX – Colorless – HP170
Basic Pokemon

[C][C] Powerful Gain: 30+ damage. If this Pokemon recovered any HP during this turn, this attack does 60 more damage and remove 3 counters from this Pokemon.

[C][C][C] Shining Wind: 80 damage. This Pokemon has no Weakness during your opponent's next turn.

When a Pokemon-EX Has been Knocked Out, your opponent takes 2 Prize cards.

Weakness: Lightning (x2)
Resistance: Fighting (-20)
Retreat: 1

---

Audino-EX – Colorless – HP180
Basic Pokemon

[C] Drain Slap: 20 damage. Heal 20 damage from this Pokemon.

[C][C][C] Do The Wave: 60+ damage. This attack does 10 more damage for each of your Benched Pokemon.

When a Pokemon-EX Has been Knocked Out, your opponent takes 2 Prize cards.

Weakness: Fighting (x2)
Resistance: none
Retreat: 3

---

M Audino EX – Colorless – HP220
Mega Evolution – Evolves from Audino-EX

When 1 of your Pokemon becomes a Mega Evolution Pokemon, your turn ends.

[C][C][C] Magical Symphony: 110 damage. If you played a Supporter card from your hand this turn, this attack does 50 damage to 1 of your opponent's Benched Pokemon. (Don't apply Weakness and Resistance when damaging the Bench.)

When a Pokemon-EX has been Knocked Out, your opponent takes 2 Prize cards.

Weakness: Fighting (x2)
Resistance: none
Retreat: 3

---

Minccino – Colorless – HP60
Basic Pokemon

[C] Cleaning: Choose 1 Pokemon Tool attached to 1 of your opponent's Pokemon and discard it.

Weakness: Fighting (x2)
Resistance: none
Retreat: 1

---

Minccino – Colorless – HP50
Basic Pokemon

[C] Tail Smack: 20 damage.

Weakness: Fighting (x2)
Resistance: none
Retreat: 1

---

Cinccino – Colorless – HP90
Stage 1 – Evolves from Minccino

[C] Covet: Look at your opponent's hand, choose 1 card, and return it to the bottom of your opponent's deck.

[C] Last Resort: 60 damage. Flip a coin. If tails this attack does nothing.

Weakness: Fighting (x2)
Resistance: none
Retreat: 1

---

Cinccino – Colorless – HP90
Stage 1 – Evolves from Minccino

[C] Sweep Cure: Heal 90 damage from 1 of your Benched Pokemon.

[C][C] Knock Away: 30+ damage. Flip a coin. If heads, this attack does 30 more damage.

Weakness: Fighting (x2)
Resistance: none
Retreat: 1

---

Alakazam Spirit Link – Trainer
Item

Pokemon Tool: Attach a Pokemon Tool to 1 of your Pokemon that doesn't already have a Pokemon Tool attached to it.

Your turn does not end if the Pokemon this card is attached to becomes M Alazakam-EX.

You may play as many Item cards as you like during your turn (before your attack).

---

Altaria Spirit Link – Trainer
Item

Pokemon Tool: Attach a Pokemon Tool to 1 of your Pokemon that doesn't already have a Pokemon Tool attached to it.

Your turn does not end if the Pokemon this card is attached to becomes M Altaria-EX.

You may play as many Item cards as you like during your turn (before your attack).

---

Audino Spirit Link – Trainer
Item

Attach a Pokemon Tool to 1 of your Pokemon that doesn't already have a Pokemon Tool attached to it.

Your turn does not end if the Pokemon this card is attached to becomes M Audino-EX.

You may play as many Item cards as you like during your turn (before your attack).

---

Pokemon Tool: Attach a Pokemon Tool to 1 of your Pokemon that doesn't already have a Pokemon Tool attached to it.

Prevent all effects of attacks, except damage, done to the Pokemon this card is attached to (effects already on this Pokemon are not removed).

You may play as many Item cards as you like during your turn (before your attack).

---

Red side: Choose which way this card faces before you play it. This ↓ Player's Pokemon cannot be Asleep or Paralyzed. (If they are Asleep or Paralyzed, remove those Status Conditions.)

Blue side: Choose which way this card faces before you play it. This ↓ Player's Pokemon cannot be Poisoned or Confused. (If they are Poisoned or Confused, remove those Status Conditions.)

This card stays in play when you play it. Discard this card if another Stadium card comes into play. If another card with the same name is in play, you can't play this card.

---

Devolution Spray – Trainer
Item

Devolve 1 of your evolved Pokemon and put the highest stage Evolution card on it into your hand. (That Pokemon can't evolve this turn.)

You may play as many Item cards as you like during your turn (before your attack).

---

Dome Fossil Kabuto – Trainer
Item


Look at the bottom 7 cards of your deck. You may reveal a Kabuto you find there and put it onto your Bench. Shuffle the other cards back into your deck.

You may play as many Item cards as you like during your turn (before your attack).

---

Pokemon Tool: Attach a Pokemon Tool to 1 of your Pokemon that doesn't already have a Pokemon Tool attached to it.

If the Pokemon this Tool is attached to is Knocked Out by damage from an opponent's Pokemon's attack, return all Basic Energy attached to that Pokemon from your discard pile to your hand.

You may play as many Item cards as you like during your turn (before your attack).

---

Return any number of Energy cards attached to your Pokemon in play to your hand.

You may play as many Item cards as you like during your turn (before your attack).

---

Remove 5 counters from 1 of your Pokemon that has any [Y] Energy attached to it.

You may play as many Item cards as you like during your turn (before your attack).

---

Fairy Garden – Trainer
Stadium

Each Pokémon that has any Fairy Energy attached to it (both yours and your opponent's) has no Retreat Cost.

This card stays in play when you play it. Discard this card if another Stadium card comes into play. If another card with the same name is in play, you can't play this card.

---

Fossil Excavation Kit – Trainer
Item

Search your deck for up to 2 of Old Amber Aerodactyl, Helix Fossil Omanyte, or Dome Fossil Kabuto and put them into your hand. Shuffle your deck afterwards.

You may play as many Item cards as you like during your turn (before your attack).

---

Helix Fossil Omanyte – Trainer
Item


Look at the bottom 7 cards of your deck. You may reveal an Omanyte you find there and put it onto your Bench. Shuffle the other cards back into your deck.

You may play as many Item cards as you like during your turn (before your attack).

---

Lass's Recommendation – Trainer
Supporter

Draw cards equals to number of your opponent's Benched Basic Pokemon.

You may play only 1 Supporter card during your turn (before your attack).

---

Switch 1 of your opponent's Benched Mega Evolution Pokemon with his or her Active Pokemon.

You may play as many Item cards as you like during your turn (before your attack).

---

Each player shuffles his or her hand into his or her deck. Then, each player draws a card for each of his or her remaining Prize cards.

You may play only 1 Supporter card during your turn (before your attack).

---

Old Amber Aerodactyl – Trainer
Item

Look at the bottom 7 cards of your deck. You may reveal an Aerodactyl you find there and put it onto your Bench. Shuffle the other cards back into your deck.

You may play as many Item cards as you like during your turn (before your attack).

---

Pokemon Fan Club – Trainer
Supporter

Search your deck for up to 2 Basic Pokemon, reveal them, and put them into your hand. Shuffle your deck afterward.

You may play only 1 Supporter card during your turn (before your attack).

---

Pokemon Tool: Attach a Pokemon Tool to 1 of your Pokemon that doesn't already have a Pokemon Tool attached to it.

The Zygarde-EX this card is attached to can also use the attack on this card. (You still need the necessary Energy to use this attack.)

[F][F][C] All Cell Burn: 200 damage. Discard 3 Energy attached to this Pokemon.

You may play as many Item cards as you like during your turn (before your attack).

---

Random Receiver – Trainer
Item

Reveal cards from the top of your deck until you reveal a Supporter card. Put it into your hand. Shuffle the other cards back into your deck.

You may play as many Item cards as you like during your turn (before your attack).

---

Scorched Earth – Trainer
Stadium

Once during each player's turn, that player may discard a Fire or Fighting Energy card from his or her hand. If that player does so, he or she draws 2 cards.

This card stays in play when you play it. Discard this card if another Stadium card comes into play. If another card with the same name is in play, you can't play this card.

---

Shuffle your hand into your deck. Then, draw 5 cards.

You may play only 1 Supporter card during your turn (before your attack).

---

Team Rocket's Handiwork – Trainer
Supporter

Flip 2 coins. For each heads, discard 2 cards from the top of your opponent's deck.

You may play only 1 Supporter card during your turn (before your attack).

---

Discard 2 cards from your hand. (If you can't discard 2 cards, you can't play this card.) Search your deck for a Pokemon, reveal it, and put it into your hand. Shuffle your deck afterward.

You may play as many Item cards as you like during your turn (before your attack).

---

Double Colorless Energy – Special Energy

Double Colorless Energy provides two chicken nuggets.

---

You can only attach this card to a [F] Pokémon. This card provides [F] Energy. While attached to a [F] Pokémon, the attacks of the Pokémon this card is attached to do 20 more damage to your opponent's Active Pokémon. Discard this card if the Pokémon this card is attached to is no longer [F].

---

Glaceon-EX – Water – HP170
Basic Pokemon

[W][C] Second Bite: 20+ damage. This attack does 10 more damage for each damage counter on your opponent's Active Pokemon.

[W][C][C] Crystal Ray: 70 damage. During your opponent's next turn, prevent all damage done to this Pokemon by Evolved Pokemon.

When a Pokemon-EX has been Knocked Out, your opponent takes 2 Prize cards.

Weakness: Metal (x2)
Resistance: none
Retreat: 2

---

Alakazam-EX – Psychic – HP160
Basic Pokemon

Ability: Spoon Bending
When this Pokemon evolves into M Alakazam EX, you may place 2 damage counters on your opponent's Active Pokemon and 3 damage counters on 1 of your opponent's Benched Pokemon.

[P][C] Suppression: Place 3 damage counters on each of your opponent's Pokemon that has any Energy attached to it.

When a Pokemon-EX has been Knocked Out, your opponent takes 2 Prize cards.

Weakness: Psychic (x2)
Resistance:
Retreat: 2

---

M Alakazam-EX – Psychic – HP210
Mega Evolution – Evolves from Alakazam-EX

When 1 of your Pokemon becomes a Mega Evolution, your turn ends.

[P][C] Zen Force: 10+ damage. This attack does 10 damage plus 30 more damage for each damage counter on your opponent's Active Pokemon.

When a Pokemon-EX has been Knocked Out, your opponent takes 2 Prize cards.

Weakness: Psychic (x2)
Resistance:
Retreat: 1

---

Umbreon-EX – Darkness – HP170
Basic Pokemon

[C] Night Veil: 20 damage. Discard any number of cards from your hand. Then, draw an equal number of cards from your deck.

[D][C][C] End Game: 70 damage. If damage from this attack Knocks Out your opponent's Active Mega Evolution Pokemon, take 2 additional Prize cards.

When a Pokemon-EX has been Knocked Out, your opponent takes 2 Prize cards.

Weakness: Fighting (x2)
Resistance: Psychic (-20)
Retreat: 1

---

Genesect-EX – Metal – HP180
Basic Pokemon

Ability: Cassette Change
Once during your turn (before your attack), you may return a Pokemon Tool attached to this Pokemon to your hand.

[M][M][M] Rapid Blaster: 100+ damage. You may discard as many [M] Energy from this Pokemon as you like. This attack does 20 more damage for each [M] Energy discarded in this way.

When a Pokemon-EX has been Knocked Out, your opponent takes 2 Prize cards.

Weakness: Fire (x2)
Resistance: Psychic (-20)
Retreat: 2

---

M Altaria-EX – Fairy – HP220
Mega Evolution – Evolves from Altaria-EX

When 1 of your Pokemon becomes a Mega Evolution Pokemon, your turn ends.

[Y][C][C] Mist Purge: 100+ damage. If this Pokemon has any Special Energy attached to it, this attack does 30 more damage and heal 30 damage from each of your Pokemon.

When a Pokemon-EX has been Knocked Out, your opponent takes 2 Prize cards.

Weakness: Metal (x2)
Resistance: Darkness (-20)
Retreat: 2

---

Kingdra-EX – Dragon – HP170
Basic Pokemon

[C] Heavy Storm: 20 damage. Discard any Stadium card in play.

[W][C][C][C] Dragon Trail: 60+ damage. This attack does 30 more damage for each basic Lightning Energy attached to this Pokemon.

When a Pokemon-EX has been Knocked Out, your opponent takes 2 Prize cards.

Weakness: Fairy (x2)
Resistance: none
Retreat: 1

---

Altaria-EX – Colorless – HP170
Basic Pokemon

[C][C] Powerful Gale: 30+ damage. If this Pokemon was healed during this turn, this attack does 60 more damage and remove 3 counters from this Pokemon.

[C][C][C] Shining Winds: 80 damage. This Pokemon has no Weakness during your opponent's next turn.

When a Pokemon-EX Has been Knocked Out, your opponent takes 2 Prize cards.

Weakness: Lightning (x2)
Resistance: Fighting (-20)
Retreat: 1

---

Team Rocket's Handiwork – Trainer
Supporter

Flip 2 coins. For each heads, discard 2 cards from the top of your opponent's deck.

You may play only 1 Supporter card during your turn (before your attack).

---

Alakazam-EX – Psychic – HP160
Basic Pokemon

Ability: Spoon Bending
When this Pokemon evolves into M Alakazam EX, you may place 2 damage counters on your opponent's Active Pokemon and 3 damage counters on 1 of your opponent's Benched Pokemon.

[P][C] Suppression: Place 3 damage counters on each of your opponent's Pokemon that has any Energy attached to it.

When a Pokemon-EX has been Knocked Out, your opponent takes 2 Prize cards.

Weakness: Psychic (x2)
Resistance:
Retreat: 2