'Pokekyun Collection' Mini-Set Coming January!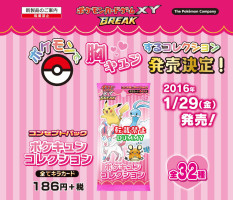 The first XY BREAK mini-set, Pokekyun Collection, will be released in Japan on January 29th! It will feature 32 cards such as Pikachu, Altaria, Dedenne, and Sylveon – all "cutesy" Pokemon.
The name "Pokekyun" is a combination of "Pokemon" and "kyun," which means to be choked up with emotion, a heart-wringing sensation, or the tightening of one's chest. So you could call it the "Pokemon So Cute You Could Die" mini-set.
All 32 cards will be holo like Shiny Collection. Each 5-card pack will cost 186 yen.