Dragon-type Rayquaza, Salamence, and Haxorus from 'Dragon Selection' Revealed!
Update (10:30 PM) – Translations added below!
The first Dragon-type Pokemon cards in the TCG have been revealed: Rayquaza and Salamence from Dragon Selection and a non-holo Haxorus promo that will come with an upcoming CoroCoro guidebook. As expected, they are all weak to the Dragon-type. Also revealed is that Dragon Selection will only have 20 cards (it really is a mini-set!), which as we already knew will all be holographic. Dragon Selection will be released on the 27th while the guidebook containing Haxorus will hit store shelves on the 14th. Translations of the cards are below courtesy of Bangiras.
Since Dragon Selection is a mini-set consisting only of Pokemon cards, there will not be a Dragon Energy in the set, which explains why the Dragon Pokemon still maintain random Energy costs for their attacks. If there is going to be a Dragon Energy, it will undoubtedly be in the full-sized BW5 Dragon Blade / Dragon Blast set, so we probably have to wait until then to see Dragon Energy attack requirements. It makes sense to hold off on Dragon Energy too: it just means the surprises will be spread out, thus generating more excitement (and thus sales).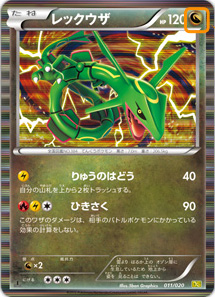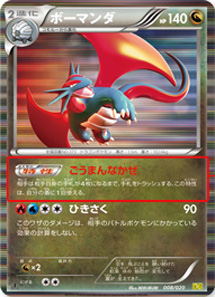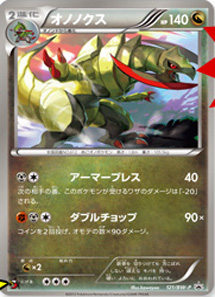 Rayquaza – Dragon – HP120
Basic Pokemon

[L] Dragon Pulse: 40 damage. Discard 2 cards from the top of your deck.
[R][L][C] Tear Through: 90 damage. This attack's damage isn't affected by any effects on the opponent's Active Pokemon.

Weakness: Dragon (x2)
Resistance: none
Retreat: 3

---

Salamence – Dragon – HP140
Stage 2 – Evolves from Shelgon

Ability: Lofty Wind
Your opponent discards cards from his or her hand until he or she has 4 cards remaining. You can use this Ability 1 time during your turn.

[R][W][C][C] Tear Through: 90 damage. This attack's damage isn't affected by any effects on the opponent's Active Pokemon.

Weakness: Dragon
Resistance: none
Retreat: 2

---

Haxorus – Dragon – HP140
Stage 2 – Evolves from Fraxure

[M][C] Armor Press: 40 damage. During your opponent's next turn, any damage done to this Pokemon by attacks is reduced by 20.
[F][M][C] Double Chop: Flip 2 coins, this attack does 90 damage times the number of heads.

Weakness: Dragon (x2)
Resistance: none
Retreat: 3