First Real 'Black & White' English Set Info
The first real Black & White set info has been released (following the news of three preview tins, which will be released March 9th). To start, the set's theme decks will be released on April 6th – three weeks before the actual set – and will feature the three final Starter Pokemon evolutions: Serperior in "Green Tornado," Emboar in "Red Frenzy," and Samurott in "Blue Assault." Galvantula is confirmed to come in the "Blue Assault" theme deck, though we don't know any other details about the other theme decks at this time. Click all of this story's thumbnails to enlarge them (they will open in a new window).
The main set, which will be released later on April 25th, will contain over 110 cards, 70 of which are Unova Pokemon. The Japanese set had 106 cards, so we'll receive the same set more or less. The booster packs feature either Reshiram, Zekrom, Zoroark, or Zebstrika (Zx3); their pictures can be seen in the "Victini Box" image in the next section.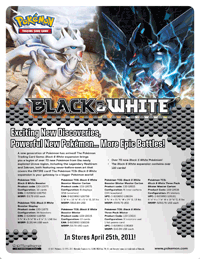 In terms of promotional items, the set will feature a three-pack blister with an unknown promo, a "Collector's Album Box," a "Victini Box," and a "New Legends" tin. The "Collector's Album Box," which costs $9.99 and will be released on April 25th, comes with a 60-card mini-binder, two of the set's booster packs, and a holo Axew promo card. The "Victini Box" will be released April 25th as well and will be packaged with a special Victini figurine, five booster packs, and an unknown holo promo for $19.99. And finally, the "New Legends" tin comes with either a holo Reshiram or Zekrom card with alternate artwork, four booster packs, costs $15.99, and will hit store shelves May 2nd.