Spring 2008 Tin Re-Issues with TFG Figure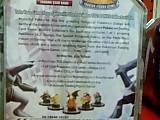 It seems the Dialga, Palkia, and Darkrai LV.X tins that were released this past spring have been re-issued at Target and now contain a Pokemon Trading Figure Game figurine. The figurines come from Next Quest, the first Pokemon TFG set. The tins apparently still cost the same price and come with four booster packs, a LV.X, and the figure. You can see a small image of the updated tin packaging to the right. Thanks goes to Omahanime for the news!
For those of you wondering what happened to the Trading Figure Game, we posted in August that Groundbreakers, the next set, is delayed until March. We'll see if it's delayed again in a few months!