Interview with Jason Klaczynski
One week until Platinum's release – next Saturday! We will be covering the game, of course!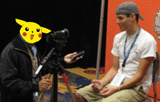 I have interviewed Jason Klaczynski regarding his Worlds win, his views on the Pokemon TCG in general, and himself! We actually started this interview right after Worlds (a few weeks ago), but I was too busy to finish it with him until now. You can read it by clicking here. It's definitely an interesting read for anyone involved in the TCG!
Someone needs to go to court to get their last name shortened… :p