Official "Pokemon Showdown" DS Tournament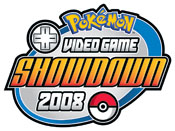 Pokemon Organized Play is holding a "Pokemon Showdown" video game tournament for the DS games, with the winners going to the TCG World Championships to nuke it out! Read the details below.
Register now to put your battle skills to the test!

The Pokémon Video Game Showdown is a BATTLE of the best Pokémon Diamond and Pokémon Pearl players from Japan and the United States. Two Qualifier Tournaments will be held in the United States this summer, and the top eight finishers in each age division will win a trip to compete at the final Pokémon Video Game Showdown in Orlando, Florida.

All Pokémon Trainers must complete the following steps at Showdown.Pokemon.com to participate in a Pokémon Video Game Showdown Qualifier Tournament:

Get a My Pokémon account.
Pass the Pokémon Video Game Showdown Quiz.
If the number of players eligible for participation in a Qualifier Tournament exceeds the number of spaces available, players will be selected at random, and invitations will be distributed to selected players.

Do you think you have what it takes?

Learn more about the Pokémon Video Game Showdown and register today at the official Pokémon Video Game Showdown website!
Bellevue, WA – May 15, 2008 – Pokémon USA, Inc., has announced the first-ever Video Game Showdown, pitting the most skilled Pokémon Diamond and Pokémon Pearl players from the United States and Japan in a battle to determine the ultimate champion. The Pokémon Video Game Showdown will take place August 16 in Orlando, Florida and will feature 32 of the most talented players from each nation.

To win a seat in the Pokémon Video Game Showdown, players must compete and win at one of two Qualifier Tournaments taking place in Los Angeles and New York on July 12 and July 19, respectively. A total of 256 players in each city will battle for sixteen paid trips for two to Orlando to compete in the Pokémon Video Game Showdown. To enter for a chance to play in the Qualifier Tournaments, players must register and complete a Pokémon online quiz at http://showdown.pokemon.com.

"Pokémon strives to create fun products and events for players of all skill levels and interests," said J.C. Smith, director of marketing for Pokémon USA, Inc. "The Pokémon Video Game Showdown provides the most skilled Pokémon players an opportunity to determine who is truly the best."