Two finals tomorrow and then I'm DONE! :D
---
Meiji Chocolate Promo Set 2008 Translations – Thanks to Kirbypopstarhero, we have translations for all of the cards in the Japanese [Meiji Chocolate Promo 2008 set]. Each card is available at random in a package of Meiji Chocolates in Japan. These types of promos are usually POP set material (or maybe even American DP5 filler material), so we should see them over here soon.
---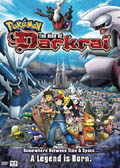 The Rise of Darkrai DVD Box Art – I just noticed the English DVD box art for "The Rise of Darkrai" even though it was revealed a week or so ago, but I figured I'd post it anyway since many people probably have not seen it. Click the image to the right for a larger picture.
The DVD hits shelves May 27th and will retail for $19.98. It will be published through VIZ media, which has been involved with the Pokemon movie DVDs since "Lucario and the Mystery of Mew."
Ash may think he's seen everything when it comes to Pokemon, but is he ready to face the mysterious Darkrai in his latest awesome adventure? While touring Alamos Town – home of the Space-Time Tower – with the beautiful Alice, Ash and his friends discover that the town's special garden has been decimated! Baron Alberto, a dashing but arrogant fellow, immediately blames the destruction on Darkrai. As if it just overheard the accusation, Darkrai appears and confronts our heroes!

Who is Darkrai? Is it an enemy… or a friend in disguise? And as a battle between Legendary Pokemon Dialga and Palkia rages directly above Alamos Town and threatens to tear a hole in the space-time continuum, will Ash and his friends survive this showdown and learn Darkrai's true nature?