I think I have set a personal record for the longest time awake – it's been almost 42 hours. I feel so proud of myself, and now I can show off to everyone about it (even though it's really because I had two big essays due). College is so much fun at times. :D After this update, I'm going straight to bed.
---
"That Boy, Ash" and "Enter Darkai!" – Two pieces of music are available for download today, since both are a bit short. The first one, "That Boy, Ash," plays in the introduction of the movie during the "World of Pokemon" sequence. "Enter Darkrai" plays when… Darkrai enters the story.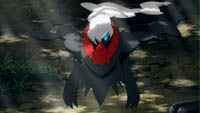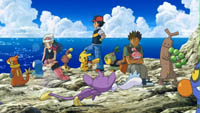 That Boy, Ash – 0:42
[Download] (1.01 MBs)
Enter Darkrai! – 1:33
[Download] (2.54 MBs)
---
Obtain Electivire in PBR – The codes you can enter in Pokemon Battle Revolution for Magmortar and Electivire expire after a while, so the codes we knew about a few months ago will no longer work. However, a new Electivire code has been released. Once you beat Pokemon Battle Revolution, you can enter in the code tko3-9jwp-34kl to download Electivire to your game! Follow the instructions below if you do not know how to do it. The Electivire you receive has random stats, but everything else is the same, as shown below as well.
1. Load your Pokemon Battle Revolution account, and customize your Battle Pass' "Self-Introduction." To do this, go to "Menu -> Profile -> Profile -> Self-Introduction."
2. Enter the code: tko3-9jwp-34kl (enter the code with subtraction signs / dashes, which are located in the "characters" section with the math symbols). You must type the code in lowercase.
3. Exit out of the customization, and go to the Shop. You will see the "Shocking Gift" as an item at the bottom of the list. Buy it (it's free).
4. The Wii will now send out Electivire's signal (after telling you to turn on your DS).
5. Turn on your Diamond or Pearl, accept the Mystery Gift, go to the Mart, talk to the man in green, and receive Electivire! Be sure to have an open slot!
5. You will only have three minutes to download Electivire.

---

Electivire (Level 50)
Nature: Adamant
Trainer ID: 06257
OT: PKTOPIA
From the Lovely Place and apparently met in a fateful encounter.

~Ice Punch
~Thunderpunch
~Cross Chop
~Earthquake

Holding a Magnet, inside a normal Poke Ball, always male.
*places a Lunar Wing beside his bed*
ZzzzzzZzzzzzzzZz…
POP 7 noicaro/ – tcg info, but with a darkrai movie twist url