Alice's Grass Flute – Oración
"The Rise of Darkrai" airs tomorrow at 7:00 PM on Cartoon Network, proceeded by a Diamond and Pearl marathon beginning at 7:00 AM. Pokemon takes over the entire channel! Since I will be going to school early (where the channels are in the eastern time zone), I will see the movie as it premieres, and will keep everyone updated regarding any interesting changes made.
---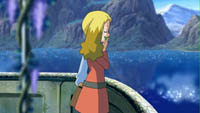 Alice's Grass Flute – Alice is the young blond woman featured in the movie, and she has the amazing ability to play songs on a tea leaf (the leaf is also able to produce violin and synthesizer accompaniments :p). The main song she plays is called "Oración," which means "prayer," and Alicia, her grandmother, taught it to her as a child. Alicia always told Alice to never forget the tune.
Alice's Grass Flute – 1:02
[Download] (1.52 MBs)
Background / Minor Spoilers: Gaudy, the architect who built the Space-Time Tower and who designed the gardens of Alamos Town, heard Alicia (the grandmother) play the song as a child and noticed the tune could both calm and heal Pokemon. When building the Space-Time Tower, he continuously experienced nightmares that were trying to warn him of a cataclysmic event that would occur in the future. Not only did the nightmares warn him of it, but they were trying to tell him of what to do to prevent it. To protect the future of Alamos Town, Gaudy left behind something to calm a great wrath.