POP 7 scans and info tomorrow? Early next week? We'll see!
---
Diamond and Pearl Tin Update – The official Go-Pokemon website has revealed that the Dialga, Palkia, and Darkrai LV.X tins that we have known about for a while will be available on February 27th. Each tin will come with four Diamond and Pearl series booster packs and one of the three LV.X cards.

---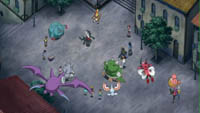 Darkrai vs. Lickilicky! – Today's "The Rise of Darkrai" music is titled "Darkrai vs. Lickilicky." It plays near the middle of the movie when the main events begin to unfold and Darkrai is accused of being the cause of the chaotic phenomena occurring in Alamos Town. The song is awesome, and features the familiar Diamond and Pearl Gym Leader music that everyone loves!
Darkrai vs. Lickilicky! – 2:15
[Download] (3.46 MBs)