Darkrai from Great Encounters
Yesterday (Tuesday) I made a second update, so be sure to read it if you have not been here since last night!
---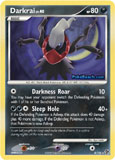 Darkrai from Great Encounters – The card image for Darkrai from Great Encounters has been revealed! Click the thumbnail to the right for a larger picture. The card originates from DP3: Shining Darkness, and will be holographic when released, as it is #4 in the set.
I suppose now is a good time to remind everyone that we will post scans of Great Encounters as early as next Monday (not likely) or as late as next Friday (either way, they will be posted before the prereleases). I have four midterms next week, with one each day from Monday to Thursday, so having the time to edit and post them will depend on my study schedule. Be sure to check back every day next week – we could post them at any point in time!
---
Nationals FAQ Up – In addition to the Regionals locations posted yesterday, POP has also now posted their Nationals FAQ. The FAQ details all the information you need to know about the event! Some important notes to mention are that there is a max cap of 1,024 players (with only 256 Junior Division players, 256 Senior Division players, and 512 Masters Division players allowed to register), and all players who will be competing in the tournament MUST register for an event ticket in their age division through the Origins Game Fair website or on site at Origins to be eligible to play (the FAQ states that players without an event ticket will not be admitted into the event).