Pokemon center Site Shutting Down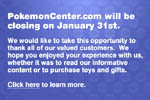 PokemonCenter.com Closing – On January 31st, PokemonCenter.com will be shutting down for good. The website first launched around the beginning of 2002, and has since provided fans with a large selection of official Pokemon merchandise to order.
The store cites as its reason for shutting down, "Pokémon USA, Inc. has decided to sell Pokémon merchandise exclusively through its retail partners." For the future, this will mean products will only be sold through Pokemon USA partners like Jakks Pacific, who both manufacture and sell Pokemon merchandise in the United States (most of which you can find at Target and other stores).
In theory, this could lead to a new direction for Pokemon merchandise – we could be seeing a wide variety of new Pokemon memorabilia that have not been in stores before, especially since according to recent product reports, Pokemon items are selling quite well. It is probably much easier for Pokemon USA to work with their partners, create and manufacture new ideas, and send their merchandise to stores than it is to maintain an online store and its orders, so for fans in the end, this decision may benefit us all. This may even be the reason for the website's removal, since the retail stores are selling the products so well that there is no longer any need for it (speculation, of course). With the removal of the website comes the removal of all of its unique merchandise, and thus as stated before, new Pokemon merchandise could be released at retailers to fill its absence.
---
Regional Championship Locations Up – The official TCG website has just updated with the locations and times for the April 2008 Regional Championships. Check out the page if you plan to attend one (and only one, since all of them take place on the same day – April 12th)!