Kingdra ex d Card Review, Entei / Rayquaza in SSBB, OP Press Releases
My midterms are over, and I nailed all of them! I will now go back to my regular posting schedule / mode. This is a large update because of stories I have not posted over the past week or so.
---
Kingdra ex d Card Review – Team Holon, lead by Bangiras and consisting of EspeonShock and Bonsly1994, have reviewed [Kingdra ex d] for their third card review. To comment on both Kingdra and their card review, you can post in this forum thread.
---
Secret Wonders Set List – The [Secret Wonders set list] is now up, featuring all of the scans from the set. I have also added it to the left menu for future access.
---
Entei and Rayquaza in SSBB – Another Super Smash Bros. Brawl demo video has revealed that Entei is a Poke Ball item Pokemon. When it is released, it takes one large stomp and unleashes a tornado of fire (Fire Spin?), which severely damages anyone nearby. You can view low-quality screenshots of Entei below by clicking the thumbnails.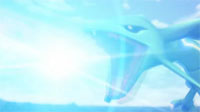 Rayquaza was also revealed on the Super Smash Bros. site yesterday. It appears to be a boss for the single-player mode based on the storyline presented, although very limited information is known at this point. In the video, which you can view here, Rayquaza comes out of a lake (not the ozone layer), attacks Diddy Kong (even though it is not evil), fires what appears to be some Ice Beams (even though Hyper Beams would do more damage), and is then defeated by FoxMcCloud, who uses a deflector to redirect an Ice Beam back at Rayquaza (since it's super effective, I guess that would explain why they wanted Rayquaza to use the Ice Beams). It could also be a victim of the Subspace Army, since it just randomly attacks everyone, blows up the first ship it sees, and is in the lake rather than the sky (suggesting it fell or is hiding in the lake because its territory, the ozone layer, is near space, where the army's domain is, who uses spaceships maybe)… who knows. The animation of Rayquaza is beautiful, and ironically, it is better than anything Nintendo has produced for any actual Pokemon game, such as Battle Revolution. Pokemon is just not treated nicely when it comes to the console games…
---
Two Organized Play Press Releases – We have received two press releases concerning tournaments in general and the upcoming City Championships. You can read both below.
POKEMON KICKS OFF THE 2007-2008 ORGANIZED PLAY SEASON

Title Events, TCG Leagues, and Championship Tournaments Provide Opportunity for Hundreds of Pokemon Fans to Compete for the World Title

BELLEVUE, Wash.-October 31, 2007-Pokemon USA, Inc., a worldwide leader in the trading card game industry, today announced the beginning of the 2007-2008 Pokemon Organized Play (POP) Season. The Pokemon Championship series events begin in November 2007 with City Championships, followed by State/Province/Territory Championships, Regional Championships, and National Championships, all leading up to the 2008 Pokemon Trading Card Game (TCG) World Championships in August.

POP programs, events, tournaments, and leagues allow thousands of players across America and all around the world to compete in a fun environment while strengthening their Pokemon TCG strategies, math skills, and reading ability. POP leagues, events, and programs are held in more than 25 countries, giving players the opportunity to build social skills by fostering friendships with international peers and those in their own hometown leagues. By participating in select POP events, players can earn Pokemon trading cards and merchandise, as well as scholarships ranging from $500 to $7,500. Prizes vary from country to country.

To receive an invite to the Pokemon TCG World Championships event, players can compete and win in their National Championships, become a top player via their premier rating, or qualify through the Last-Chance Qualifier tournament.

Along with competitive tournaments, the ongoing Pokemon TCG league season spotlights the Sinnoh Region, featured in the Pokemon Diamond and Pokemon Pearl Nintendo DS games. Pokemon TCG leagues are a great way for players of all ages to get together in a casual setting and perfect their playing skills while earning prizes. Players earn Pokemon Organized Play exclusive promo cards, badges, and foil Energy cards.

2007-2008 Pokemon Events Schedule

Prereleases: Prereleases are held quarterly with more than 400 total events planned for the 2007-2008 POP season. Players get a sneak peek of the latest expansion before it is released.

City Championships: November 2007-January 2008 – City Championships will take place in hundreds of cities across North America beginning November 23rd.

State/Territory/Province Championships: March 2008 – State Championships will be held in many states, provinces, and territories. Winners in some markets receive a Travel Allowance to their National Championships.

Regional Championships: April 12, 2008 – These events divide up the U.S. and Canada into large regions. Winners will receive scholarships worth up to $2,000 and a Travel Award to the 2008 National Championships.

Battle Road Tournaments: Autumn (September-October 2008), Spring (May-June 2008) – Battle Road tournaments give players another opportunity to work on their premier ratings, potentially earning an invite and trip to Worlds.

National Championships: North America: June 2008, International: April-June 2008 – The National Championships is the first Worlds qualifier event. Winners receive scholarships worth up to $5,000 and an invite and Travel Award to the 2008 World Championships.

World Championships: August 2008 – The Pokemon TCG World Championships is the premier Organized Play event of the year. The event will host top players from around the world competing for the title of Pokemon TCG World Champion and for scholarships worth up to $7,500.

For more information about Pokemon Organized Play or to locate an event near you, please visit www.go-pokemon.com.

---

POKEMON ANNOUNCES 2007-2008 CITY CHAMPIONSHIPS

Free Events in Cities across the Country Kick-Off Premier Season for Pokemon Trading Card Game Players of All Ages

BELLEVUE, Wash.-November 5, 2007-Pokemon USA, Inc., a worldwide leader in trading card games, today announced Pokemon Trading Card Game (TCG) City Championships for players of all ages. City Championships provide players the opportunity to succeed at an intellectual sport and test a player-s Pokemon TCG skill, strategy, and creativity on the path to becoming a Championship-level player.

Competitors are divided into three divisions: Junior Division (Born 1997 or later), Senior Division (Born in 1993, 1994, 1995, or 1996), and Masters Division (Born in 1992 or earlier). The winner in each category will earn the title of City Champion. City Championships players also have the opportunity to earn Pokemon prizes including booster card packs and exclusive merchandise.

The Pokemon Championship series events begin in November 2007 with City Championships, followed by State/Province/Territory Championships, Regional Championships, and National Championships, all leading up to the 2008 Pokemon Trading Card Game (TCG) World Championships in August 2008.

WHO: Pokemon Trading Card Game players and the general public

WHAT: Pokemon TCG City Championship; FREE admission, open to the public

WHEN: November 23, 2007-January 6, 2008

WHERE: Cities across the U.S.

WHY: For the chance to compete against other Pokemon players for prizes!

For more information, please visit www.go-pokemon.com.