Ambipom, Bronzong, Beckett, Magmortar
We'll have early [Secret Wonders] scans next week, as long as my midterm studying doesn't take over my nights. The official Japanese TCG site is also going to release small images (not scans) of all of the cards in [Moon Hunting / Night Dashing] sometime soon, and when that happens, we'll post them here. Most likely, we will have actual scans before then, though. English DP3 + Japanese DP4 + midterms + Humanities essay + random Oceanography homework + general craziness isn't going to equate to such a pretty week (that was the case this week, which is why I did not update as often), so we'll see how things go…
---
Ambipom Review – PokeBeach will now be reviewing and posting detailed articles on Pokemon within the Diamond and Pearl games, which, in my honest opinion, rival the quality of Pokemon reviews posted elsewhere on the internet. Team Eclipse, a small and elite group of PokeBeach Pokemon-gurus, [reviews Ambipom] for their first Pokemon review. To comment on Ambipom as a Pokemon and Team Eclipse's review, you can post in this forum thread.
---
Bronzong Card Review – Team Holon, currently consisting of Bangiras (the team leader) and EspeonShock, has reviewed [Bronzong from Mysterious Treasures] for their second card review. To discuss both Bronzong and their card review, you can post in this forum thread. It seems as if the card reviews turned out to be a huge hit this time around (since this is the second or third incarnation of the PokeBeach Strategist program) – each card review is getting more and more reads, and the quality of each review the three teams are producing is excellent (and if you don't think so or disagree with something a team says in a review, you know where to post comments).
---
Beckett "Cards for Kids" Donations – According to Beckett's latest magazine issue, they will be accepting Pokemon card donations from Pokemon fans to give to children in hospitals as charity. All you have to do is send in extra Pokemon cards that you do not want (and maybe even one or two nice cards, such as holos or reverse holos), and Beckett will put them in goodie bags and distribute them to hospitals across the country. All donations need to be in their hands by November 27th, so if you want to donate any cards, do not forget this date! You can view the magazine scan below for more information, including the address to send the cards to. Thanks goes to TRQLKZ for the news and the scan.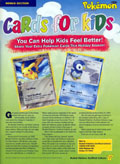 ---
Magmortar PBR Code – The code to download Magmortar from Pokemon Battle Revolution is B416-X4HT-VTWF. Instructions on how to download it are below. If you did not know, you can also download an Electivire from PBR (see our September 25th news story).
1. Load your Pokemon Battle Revolution account, and customize your Battle Pass' "Self-Introduction." To do this, go to "Menu -> Profile -> Profile -> Self-Introduction."
2. Enter the code: B416-X4HT-VTWF (enter the code with subtraction signs / dashes, which are located in the "characters" section with the math symbols).
3. Exit out of the customization, and go to the Shop. You will see the "Heated Gift" as an item at the bottom of the list. Buy it (it's free).
4. The Wii will now send out Magmortar's signal (after telling you to turn on your DS).
5. Accept the Mystery Gift on the main menu, go to the Mart, talk to the man in green, and receive your Magmortar. You'll need a free slot in your party.
5. You will only have three minutes to download Magmortar.
Magmortar (Level 50)
Trainer ID: 06257
OT: PKTOPIA
Modest Nature
From the Lovely Place and apparently met in a fateful encounter.

~Psychic
~Flamethrower
~Hyper Beam
~Solar Beam

Holding a Charcoal, inside a normal Poke Ball, always female.