EDIT: Added Secret Wonders card images (they are above the press release and set logo)! The contents of the news story have also been updated, so please read it if you already were here earlier today.
---
America's DP3: Secret Wonders – The next American Diamond and Pearl TCG set will be named Secret Wonders. It appears that the English set will actually be a compilation of both Japan's DP3 set, Shining Darkness, and Japan's unreleased DP4 set, Moon Hunting / Night Dashing (for more information on the Japanese DP4 set, due to come out in October in Japan, check out our [July news story] on it).
The images we received today are of cards from the original Shining Darkness Japanese set, but there are new cards included as well, such as Weavile. This leads us to believe that such cards come from Japan's Moon Hunting / Night Dashing (DP4) set, featuring Cresselia, and that our Secret Wonders set will comprise of cards from both sets.
In previous years, sets themed after movies have been released at a later time and out of order to coincide with their movie release. This occurred with EX Legend Maker, which was themed after the 8th Pokemon movie, Lucario and the Mystery of Mew. Its release was pushed back and switched with the release of EX Delta Species in America, when originally, it was supposed to come out before EX Delta Species (this is why EX Legend Maker interrupts the Delta Species Pokemon sets – it came out after it was supposed to).
Unlike the above method of pushing movie-themed sets back to a later release, as the case would have been with Shining Darkness (since it is themed after the 10th Pokemon movie, Dialga vs. Palkia vs. Darkrai), it appears (note: appears) that PUSA has taken a different approach this time. For the most part, the Secret Wonders set we have seems like it will largely comprise of cards from Shining Darkness (DP3), but theoretically, cards like Darkrai, which appear in the 10th movie, will be removed from this set and placed into our next set (which will be released around the same time as when the 10th movie comes out in America). The cards that are removed will probably be replaced with cards from Japan's DP4 set (the Cresselia set), which already seems to be the case with Weavile.
For spoilers of Japan's Shining Darkness set, [click here].
---

BELLEVUE, Wash.-September 10, 2007-Pokémon USA Inc., a worldwide leader in the trading card game
industry, today announced the latest Pokémon Trading Card Game expansion, Diamond & Pearl-Secret Wonders,
will be released on November 7. The expansion features more than 130 cards, including even more brand-new
Pokémon for players to collect for the very first time.

In Secret Wonders, players travel deeper into the Sinnoh region, where they will discover more exciting
Pokémon. Pokémon with different versions, each with distinct characteristics; Pokémon with Items that
continue to give awesome advantages; more of the useful Unown that work so well as a group; and additional
Pokémon LV.X all come together to make Secret Wonders a secret worth uncovering!

The Pokémon TCG: Diamond & Pearl-Secret Wonders expansion will be available in two 60-card theme decks-
Powerhouse and Lavaflow-as well as in booster packs. Theme decks and booster packs go on sale in stores on
November 7, priced at $11.99 for the theme decks and $3.79 for the booster packs. Each booster pack features
10 randomly inserted game cards. Theme decks include a unique coin, an updated rulebook, card list, a oneplayer
playmat and damage counters.
---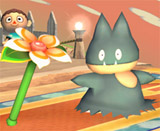 Munchlax in SSBB – The Super Smash Bros. Brawl website has updated with the next Poke Ball Pokemon – Munchlax!
When Munchlax is released from its Poke Ball, it walks around on the field and eats any item it sees. This isn't good for important items, such as the Smash Ball, which allows a character to use their "Final Smash" attack.
So far, we know that Goldeen, Chikorita, Deoxys, Groudon, and Munchlax will be available in Poke Ball items in the game. Who could be next? Arceus? I wish…
For more pictures of Munchlax, visit the Super Smash Bros. Brawl website.