Cranidos, BRs, Forum Sections
STILL working on new layout and content. The Modified Card-Dex is what is taking the most energy and time to finish.
---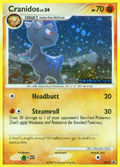 Cranidos Promo, DP07 – Like with Buneary yesterday, Cranidos comes in Mysterious Treasures value packs at Target, each available for $4.99. To recap, each value pack contains one Mysterious Treasure booster pack, one POP 3 booster pack, and either a Cranidos or Buneary promo (look at yesterday's post for Buneary). Thanks to omahanime, we finally have Cranidos' scan, which you can view to the right (click the thumbnail for a larger image).
---
Battle Road Locations Posted – The Fall Battle Road location list is now available on the official Pokemon Organized Play website. Get your "EX Holon Phantoms and on" decks ready! For more information on Battle Roads, click here.
---
New Forum Additions – If you are a frequent poster on our forums, you may have noticed our new Article Submissions and Card of the Day forums, but if not, let me explain what they are.
If you have ever been interested in writing articles on the TCG for other people to read, but have not known where to post them, we now have a place to accommodate such a need! Whether your article concerns cards, decks, tournaments, people, or anything, feel free to post it in out forum's Featured Articles section. There, forum members and visitors can both read and comment on your work. If your article is deemed "well-written and insightful" by readers and our staff, we will post it in our future "Featured Articles" section on PokeBeach, where thousands upon thousands of visitors can read what you write (plus, each article will be introduced on this main page first, so it's almost like having the spotlight).
Our new Card of the Day section is something our forum members have been requesting for quite some time, and is a feature many websites have, but oddly, one we, a TCG site, do not! Well, now we do. Every day, one card will be posted in its own thread, and anyone can give their own mini-review on whichever card is chosen for the day. Of course, we still have our PokeBeach Strategists' card reviews, but now there will be two places to read reviews on cards – one place run by normal members, and one run by select individuals who have proven themselves excellent players. Everyone can give their opinions and reviews now!
---
Mystery Dungeon 2 Commercial – A new Pokemon Mystery Dungeon Time Exploration and Darkness Exploration commercial has been released! This one features new animé and game-play footage. Click the picture below to go to the Japanese Nintendo DS website to watch it.