This update is almost like yesterday's!
---
Another PokeBeach Quiz – Apparently, some people thought there was going to be another quiz tonight (I don't know how the red text and the announcement of the winners in the previous update could have confused them, but I suppose that's what you get for not reading my long, intimidating updates), so we are having another quiz tonight at 10:45 PM (PST) in the PokeBeach chat room. If you are bored tonight, feel free to join in! THERE WILL NOT BE ANOTHER QUIZ UNTIL NEXT FRIDAY.
---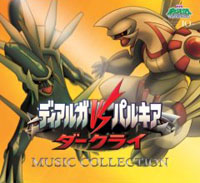 Gold and Silver Remix Battle Music – Like yesterday, we have another music download for all of you Pokemon music junkies! Today, you can download the first track from the Dialga vs. Palkia vs. Darkai music CD, which, I assume, plays during the "World of Pokemon" scene at the beginning of the movie. The song is a remix of Gold and Silver's battle music (the song we played at the beginning of our first podcast).
G/S Remix Battle – 2.58 MBs
[download]
A review on the CD / music of the movie: Yesterday, I received the 10th movie's CD in the mail, but did not have the opportunity to listen to it until today. For the 10th anniversary movie of Pokemon, I would have expected the music to be original, epic, and exciting, but, in its entirety, the CD did not impress me at all. Only a few tracks were written well, and the rest sounded like "marshmallow" music (no pattern, just sounding like it was thrown together, with random and short-lived melodies). Most of the tracks sounded like rehashes of music from previous movies (same instruments, different tunes), and I can say for sure that I thought Lucario and Manaphy's soundtracks were much better, even on my first impression of listening to them. I was basically disappointed with the music, and I have not been as disappointed in a Pokemon movie's music since Deoxys (with all of the electronic synthesizers, but at least this movie's music uses mainly instruments). Of course, this is just my opinion – perhaps the music will sound better when heard in the actual movie, where it fits in with the scenes it was created for.
---
Comic-Con – I will be attending Comic-Con in San Diego tomorrow, and hopefully, I will have something to report on when I come home! Last year, I reported on the new voice actors, Lucario and the Mystery of Mew, and other Pokemon aspects, but I do not think there will be as much Pokemon activity this year, in terms of news (excluding the Trading Figure Game, which will be demoed at the event). I will also be meeting up with some old Pokemon friends (Meowth346 from Pokemon Forever, TCG players, etc.), members from Pokemon USA (hopefully), and will generally just be having an awesome time at the various conferences and events! If I find out something major that is related to Pokemon, I will try to update this website while there, so check back tomorrow!