Redshark – One of PokeBeach's first surprises of the summer (yes, there will be more) is Redshark, a new program for playing the Pokemon TCG on the computer, similar to Apprentice. This program has taken a full year to create, and was written by Michael A. Ignatoski. His (not mine) full news post for this program is below for you to read. We hope over the next week or so to gain feedback for the program so that we can release the next version. PLEASE provide your feedback after you try the program by posting in this forum thread or by e-mailing the creator, Michael A. Ignatoski ([email protected]). Full details on the program are below, so please read the entire news post.
---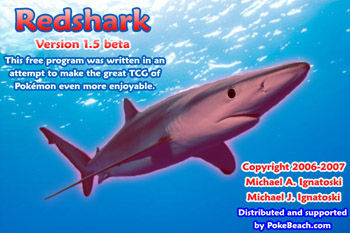 Welcome to the first public (but still beta) release of Redshark, a more Pokémon-friendly version of Apprentice for playing the Pokemon TCG on your computer.
Since this is the inaugural beta version of Redshark, it is NOT the official release, but with your help, hopefully it will be in the next few weeks. You can help by evaluating the beta version of Redshark and providing feedback. To provide feedback, we implore you to post in this thread on our forums for any problems / bugs, feature requests, and general comments (to post, you need a PokeBeach forum account, which you can create by registering here. We hope that we can get as much feedback as possible from everyone who tries it. Unlike Apprentice, we have complete control over this program, since it was built completely from scratch, so changes are possible.
Currently, Redshark does not have the Diamond and Pearl set included, since we are only testing the actual program right now. The graphics are also outdated. When we feel we have received enough feedback over the next week or so, the program will be updated with the set and better graphics (plus everyone's feedback!). The current release is just for testing and gaining feedback so that the next, full version can be released.
As the creator and primary developer of Redshark, I believe that the program is quite stable and is ready for public testing. Your time and input are very much needed and appreciated. Thank you very much!
A few things about Redshark:
It is FREE… please enjoy it! The purpose of the program is to make the great TCG of Pokemon even more enjoyable by allowing people to test their own decks on the computer. Then, at POP tournaments and when battling friends in real life, you will have more experience. :)
Based on user feedback, updated versions of Redshark will be released as
needed, with each one containing some combination of bug fixes, new features,
and enhancements.
It only runs on the Microsoft Windows platform currently (you can still run it on Macs with a Windows emulator). Windows 2000, XP, and Vista have been successfully tested, and other versions of Windows will probably work.
It requires a minimum screen resolution of 1024 x 768.
The current version does NOT include the Diamond and Pearl set, but that version will be coming soon once enough feedback is received.
It DOES include some documentation on how to work the program… it's worth reviewing. Once the full program is released, there will be guides on how to use it.
I created it after trying Apprentice, and thought that it would be fun to try to 'build a better mousetrap' that many people would find useful.
It is available only on PokeBeach and will be fully supported by PokeBeach.
Acknowledgments from the creator of the program, Michael A. Ignatoski:
My son, Phillip, for getting me into Pokémon.
My nephew, Michael, who has been a great asset in developing Redshark.
Water Pokemon Master for posting Redshark on PokeBeach and making it available to the public.
---
To view Redshark's page and to download the program, click here. For help on using the program, a help file is included in your installation. You can access it by clicking "Help" on the top menu of the program, then "Help" again, which will open a new window with the help file. PLEASE provide feedback and comments on the program after you have used it by posting in this thread on our forums or by e-mailing the program's creator, Michael A. Ignatoski ([email protected]). That way, the next version can be released in a short amount of time.