Testsss……. 7… more… dayzzzzz… In the meantime, "The Wi-Fi League is booming, so now its even easier to find people in real-time to battle or trade. Don't forget the normal forums for the discussion of everything else involving Diamond and Pearl, which is also popular." :p
---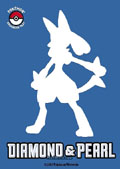 D/P Scans and Info – We have exclusive pre-pre-release scans of Diamond and Pearl, the next TCG set! If you want to participate in a pre-release to play with these cards and own them, you should search for one near you and read what pre-releases are all about. This would be the PERFECT time to get back into the TCG if you have not played in a while, and it is also a good time to force your friends or family to play the game as well. You get to keep your cards, build a 40-card deck, meet other Pokemon fans, and have a fun time playing the game in a tournament (some pre-releases even have other side-events, and since D/P is out for the DS now, some may even have D/P DS tournaments). Pre-releases take place this weekend and next weekend, so attend one if you can! Also note that the TCG now has a few new rules with this new Diamond and Pearl set, which you should learn, understand, and memorize before you attend a pre-release. If you need any help with the new rules, feel free to post on our forums.
As for other items you receive at the pre-releases, everyone will be given 60 card sleeves, featuring Lucario (pictured right – click for larger image). Since these are available at pre-releases, they are probably legal for other Pokemon Organized Play tournaments in the future, although this is not confirmed for sure, yet. The pre-release card you receive for this set is Luxio, the evolved form of Shinx. The reverse holos in this set are like the old EX Ruby and Sapphire reverse holos – everything is holo, other than the picture. Also, is it just me, or are the name fonts, the placement of text (Dusknoir), and the enlarged PokePower and PokeBody fonts (Dusknoir, Rhyperior, etc.) incredibly annoying to look at? It seems like 1st edition Neo Genesis all over again.
Since I have two tests tomorrow, I did not have time to edit the scans to look "purty," so they are only edited for size (some scans look "squished" because I did not edit them, like Elekible – the card's font in real life is not like that). Click the thumbnails below to view! You only need to click one image to view all of the scans – just hover over the right side of the image after it has loaded, and click "Next" to scroll through the remaining scans. If the picture viewer makes your life difficult, you can right-click the thumbnails and open the links of the images. We will have more scans and the full set list tomorrow (which I do not have time to put up tonight), so be sure to check back!
---
[Images No Longer Available]
---
If you want to discuss this set, post in this thread on our forums.